Cameron Is Preparing to Give Way and Accept More Syrian Refugees
David Cameron's government is preparing to bow to pressure both from within Britain and from European allies and let in thousands more refugees, according to a person familiar with his plans.
British newspapers were dominated Thursday by a photograph of a dead child on a Turkish beach. The prime minister, who on Wednesday had said that "there isn't a solution that's simply about taking people," found himself under attack from lawmakers in his own Conservative Party, religious leaders and the political opposition.
"Anyone who saw those pictures overnight could not help but be moved and, as a father, I felt deeply moved by the sight of that young boy on a beach in Turkey," Cameron said in a television interview on Thursday. "Britain is a moral nation that always fulfills its moral obligations. We are taking thousands of people and we will take thousands of people."
The person, who declined to be identified because the plans are still being worked out, said that this was a signal of the likely scale of Britain's response -- thousands, rather than the 10,000 called for by some in the opposition Labour Party. The focus would be on taking refugees from camps around Syria, rather than those who had arrived in Europe, to discourage people from taking risky journeys, the person said.
According to research by the House of Commons Library, Britain has taken in more than 4,000 Syrian refugees since the start of a war that has caused 4 million to flee.
Syrian Boy
The majority of national media highlighted the same image of the Syrian boy carried away by an emergency worker. British television has also had extensive coverage of events in Hungary, where the authorities have prevented thousands of refugees from traveling to Germany.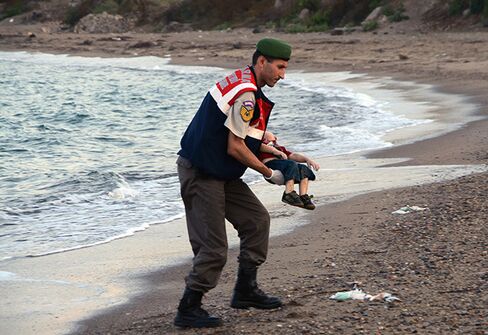 The interim leader of the main opposition Labour Party, Harriet Harman, urged Cameron to "end the inertia and delay, and show some moral leadership." Vincent Nichols, head of the Roman Catholic church in England and Wales, said Britain's and Europe's response is "a disgrace" while the Anglican Archbishop of Canterbury, Justin Welby, urged more action.
'Offering Shelter'
"The people of these islands have a long and wonderful history of offering shelter and refuge, going back centuries," he said in a statement. "It has always been controversial at the time it happened, always been seen as too difficult."
Chancellor of the Exchequer George Osborne told reporters that Britain has been playing a "leading role" and the focus should be on defeating Islamic State and breaking up the criminal gangs who traffic migrants, he said.
A petition on Parliament's website demanding that Britain accept more asylum-seekers was close to double the 100,000 signatures needed for it to be considered for debate.
Before it's here, it's on the Bloomberg Terminal.
LEARN MORE