Beverly Hills Estate's Record Asking Price Cut to $149 Million
Estate listed last year for $195 million, highest U.S. price

Billionaire owner Jeff Greene says he's `motivated to sell'
The Palazzo di Amore, a Beverly Hills, California, estate with a vineyard and parking for 150 cars, is being offered at 24 percent off its record asking price of $195 million.
"When we originally put it on the market, we were prepared to see what the response would be," Jeff Greene, the billionaire real estate and mortgage entrepreneur who owns the estate, said in a statement Thursday announcing the new $149 million asking price. "Now, we are very motivated to sell."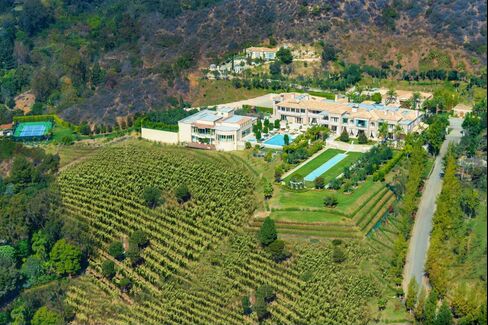 The estate was offered at the higher price last November, a record at the time for a U.S. listing. Other $100 million-plus homes on the market include an East Hampton, New York, estate called Briar Patch that's offered for $140 million and Le Palais Royal in Hillsboro Beach, Florida, listed for $139 million, according to Holly Taylor, a spokeswoman for Coldwell Banker Previews International, whose agents Joyce Rey and Stacy Gottula have the Beverly Hills listing.
The most expensive current listing is Gemini, a 15.7-acre (6.4-hectare) estate on the Atlantic Ocean in Manalapan, Florida, which was put on the market in March for "almost $200 million," according to Zackary Wright, senior vice president of Christie's International Real Estate, the listing agency.
The 25-acre Beverly Hills estate has 12 bedrooms, 23 bathrooms, a 50-seat screening room, bowling alley, wine cellar for 10,000 bottles and 15,000-square-foot (1,400-square meter) entertainment center with a ballroom-disco. Since putting it on the market, Greene has spent $1 million to enhance the entry and site security, according to the statement.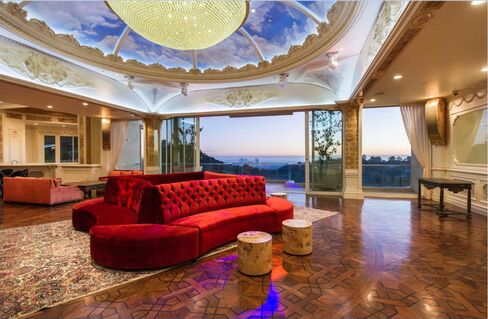 The number of homes listed for more than $100 million has been rising as developers and real estate brokers serve a growing global caste of billionaires seeking trophy properties.
"There are a lot of these what I call 'vanity listings,' but in reality we haven't seen them sold," said Jonathan Miller, president of appraiser Miller Samuel Inc., noting that even with the Palazzo di Amore's price cut, it will be hard to find a buyer for the mansion. "Call me when it's dropped to $125 million."
Before it's here, it's on the Bloomberg Terminal.
LEARN MORE