Beermakers Gain Upper Hand on Financiers as Aluminum Costs Sag
Premium added to aluminum drops to the lowest since 2012

Charge tumbled 68% as LME proposed to speed delivery
U.S. aluminum premiums have dropped by more than half this year to a three-year low, signaling relief for industrial users ranging from auto-parts producers to beermakers.
The amount added to the London Metal Exchange supplies for immediate delivery at Detroit warehouses slid to 7.75 cents a pound as of Wednesday, down from about 24 cents at the end of 2014, according to data from Metal Bulletin. The tumble follows changes in warehouse rules announced by the LME to speed up delivery after lengthy waits at some sites drew complaints from consumers including MillerCoors LLC and scrutiny from U.S. lawmakers.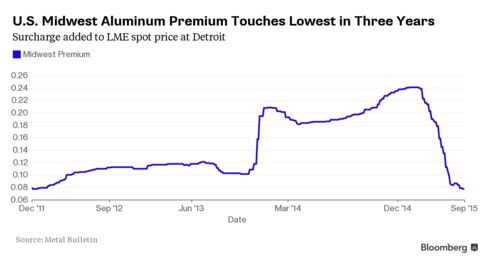 Premiums rose last year as aluminum-warehouse bottlenecks lead to longer queues, and with shipment delays at some locations lasting more than a year, the metal surged into a bull market in mid-2014. A U.S. Senate panel in November alleged that Glencore Plc and hedge fund Red Kite were among firms joining in "merry-go-round" deals that led to logjams and drove up storage fees at sites owned by Goldman Sachs Group Inc. Goldman, which has since sold its warehouse unit, said at the time that it didn't restrict the availability of metal.
"Immediately after the Senate report, all the banks put their warehouses up for sale, and most of those were, in the following six to eight months, sold to other entities," Chris Lewon, the vice president of Utah Metal Works Inc. in Salt Lake City, said in a telephone interview. "And strangely enough, that's when the premium started coming down."
Industrial consumers including MillerCoors said premiums gained amid increased use of aluminum for financing deals, when investors buy the commodity for nearby delivery and make a forward sale at the same time to profit from price differences, leaving the metal in inventory unavailable for manufacturers.
Aluminum for delivery in three months fell 0.9 percent to $1,615 a metric ton at 2:31 p.m. in London. The metal has dropped 13 percent this year.
Before it's here, it's on the Bloomberg Terminal.
LEARN MORE