Apollo-Backed Athene Hires MetLife's Wheeler, Fueling IPO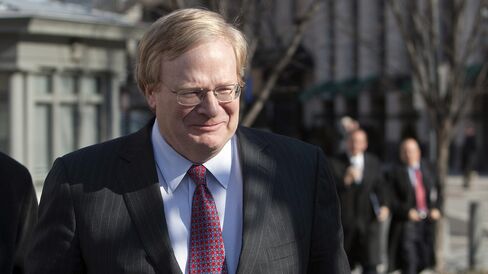 Athene Holding Ltd., the insurer tied to Apollo Global Management LLC, named ex-MetLife Inc. executive William Wheeler as president as it prepares to go public.
Wheeler, 54, spent 17 years at MetLife before leaving last month. He takes over at Athene on Sept. 28, the Bermuda-based insurer said Thursday in a statement. Athene, led by Chief Executive Officer Jim Belardi, has been flagging plans for an initial public offering for more than a year. Grant Kvalheim remains CEO of Athene USA.
"I look forward to working with the team to produce significant profitable growth, deliver strong financial results and help take the company public," Wheeler said in the statement.
Apollo helped start Athene about six years ago to buy insurance companies' unwanted annuities, which provides income to retirees. Annuities became unprofitable during the financial crisis because they are linked to stock and bond markets. Wheeler worked to scale back risks tied to the products at MetLife, the largest U.S. life insurer.
Wheeler said in April that he was stepping down as president of MetLife's Americas division, its largest unit. He helped integrate American Life Insurance Co. after a $16 billion acquisition, and oversaw the acquisition of pension provider AFP Provida SA. He joined investment bank Evercore Partners Inc. as a board member this year.
Athene's Growth
Athene agreed to buy a business from Delta Lloyd NV this year and purchased a unit of Aviva Plc in 2013. AP Alternative Assets LP, a publicly traded investment vehicle managed by Apollo, is Athene's largest shareholder.
Wheeler's departure spurred doubts about who may lead the MetLife as CEO Steve Kandarian nears the company's mandatory retirement age of 65, a rule that can be waived by the board. The announcement of Wheeler's leave sent MetLife shares falling the most in the 21-company Standard & Poor's 500 Insurance Index on April 14.
MetLife hasn't yet named a successor for Wheeler. He's set to receive more than $2 million from MetLife and the separation agreement barred him from joining rival Prudential Financial Inc., according to an August regulatory filing.
MetLife spokesman John Calagna declined to comment.
Before it's here, it's on the Bloomberg Terminal.
LEARN MORE