Algerian Crude Rises to Five-Month High on European Refining
Libya's failure to ramp up oil output boosts Algerian price

Nigeria's crude fared less well as Asia's market weakened
Oil from OPEC-member Algeria is selling at its highest premium to the Brent crude benchmark in five months amid strong demand from European refineries.
The North African country's Saharan Blend official selling price was set at a 75-cents-a-barrel premium to Dated Brent for September, compared with a 45-cent premium in August and a 20-cent discount in July.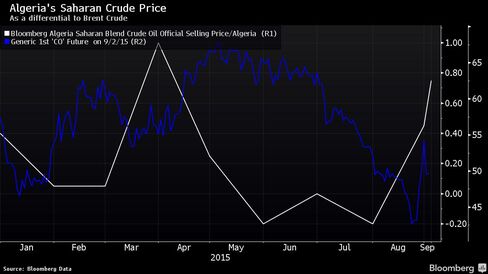 "High refinery margins have kept demand up from European refineries, giving support to Algeria's crude as Libyan crude is lacking," said Ole Hansen, head of commodity strategy at Saxo Bank A/S in Denmark.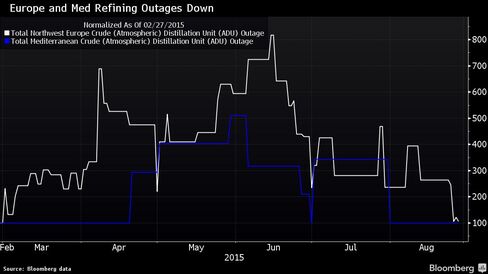 The premium of European gasoline prices to crude has risen to a monthly average of about $24 a barrel, the highest since May 2007, consultant IHS Inc. said in a report Friday. War-torn Libya, Algeria's neighbor and also a traditional supplier to the European market, is pumping crude at about a quarter of the rate prior to the uprising against Muammar Qaddafi in 2011 as export terminals remain shut down due to insecurity.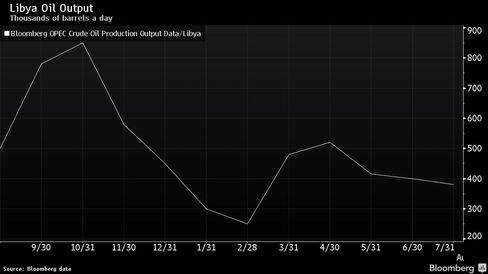 The price of Algerian crude has held up better than similar-quality crude from Nigeria, a fellow member of the Organization of Petroleum Exporting Countries. The West African nation has been hurt by weakening demand from Asia, where it is trying to sell crude displaced from the U.S. market by shale oil, said Robin Mills, a Dubai-based analyst at Manaar Energy Consulting.
The selling price of Bonny Light, Nigeria's main export grade, was set at a 35-cent-a-barrel premium to Brent in August, lower than Saharan blend for the first time since March.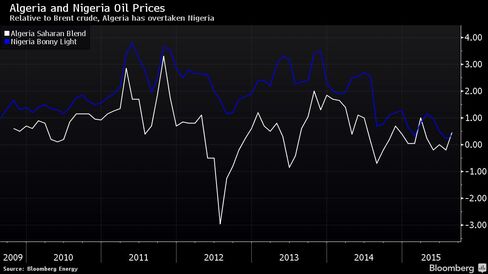 "Shaky Asian demand has hit Nigeria more than Algeria, given Algeria exports
mostly to Europe," said Mills.
Before it's here, it's on the Bloomberg Terminal.
LEARN MORE