Soggy British Summer Leaves Halfords' Bicycle Sales Washed Out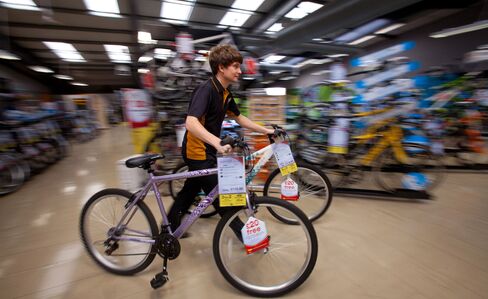 Britain's wet summer took a toll on sales at the country's biggest bicycle seller as fewer people took to the roads because of rainy weather.
Halfords Group Plc said Wednesday that cycling sales fell 11 percent in the eight-weeks ended Aug. 28, a performance that was also affected by increased levels of discounting. The shares fell as much as 9.8 percent, the most since May 2013.
Summer rainfall levels in the U.K. were about 13 percent more than the long-term average, the Met Office said last week, keeping casual cyclists away from the roads. For Halfords, the impact was accentuated by comparison with a period of last year when cycling was encouraged by the Tour de France race coming through the U.K. for the first time since 2007.
"A tough comparable and a wet August deterred the casual cyclist and hit sales of mainstream bikes in particular," Kate Calvert, an analyst at Investec Securities, said in a note. "This resulted in widespread market promotional activity."
Halfords shares were down 7.6 percent at 471.5 pence as of 8:44 a.m. The company said changes to its product mix and tighter cost controls will keep profit for the financial year "broadly in line" with analysts' estimates.
Halfords controls about 20 percent of the 1 billion-pound ($1.5 billion) U.K. cycling market, according to analysts at Cantor Fitzgerald. The industry has grown rapidly in recent years due to the rising popularity of endurance cycling, especially among middle-aged men.
"This recent weakness in our cycling sales is disappointing, but it comes after two years of very strong growth in the category," Chief Executive Officer Jill McDonald said in the statement. McDonald joined in May from McDonald's Corp., where she headed the restaurant chain's U.K. operations.
Outside of cycling, Halfords said business in all other areas remains "robust." Car parts performed strongly, it said.
Before it's here, it's on the Bloomberg Terminal.
LEARN MORE