Voilà, the Vix curve inverted.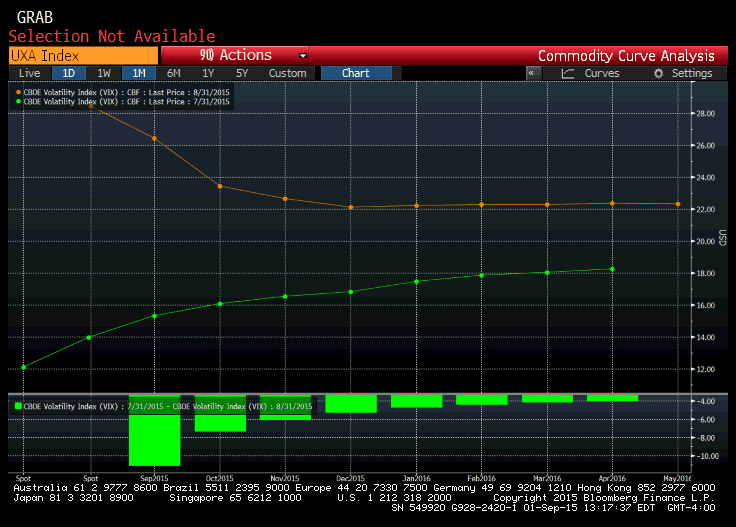 As Bloomberg News reports on Tuesday an inverted VIX curve is rather creepy. In normal times, the term structure of the Vix, affectionately known as Wall Street's fear gauge, would be expected to slope from the bottom left to the top right, as in the green line of this chart (as it looked at the end of July. Orange is from the end of August).
This makes sense since people have generally been more willing to pay for Vix futures with a far-off expiration date than near-term ones, causing that upward curve. When the Vix spikes, as it has done dramatically over the past week or so, the curve inverts as traders pay more for near-term Vix futures.
Now take a look at the VelocityShares Daily Inverse VIX short-term exchange-traded note, better known as the XIV.
As David Schawel, a money manager at Square 1 Bank, points out on Twitter, an inverted yield curve spells bad news for a whole host of products and strategies created to effectively sell volatility, with the XIV being just one prime example.
(The white line is share price performance while the purple is shares outstanding)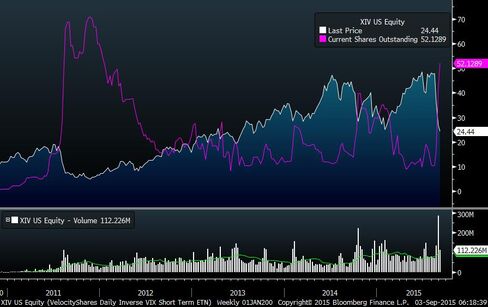 Instruments like the XIV sell the front few months of Vix futures contracts and take advantage of the (normally rising) slope to generate their profit. When the Vix curve flips, as it has done now, that positive carry turns negative and profits disappear. It is a potentially, well and truly, painful reversal.
Years of unconventional monetary policies and relatively sleepy markets have spurred an explosion in volatility-related products and strategies. Selling volatility in particular was a cheap and easy way to boost returns. Aanlysts say that helped lure a host of new players into the market, with big, and sometimes small, buy-side investors often trading volatility with each other.
It's worth wondering, amidst the current market gyrations, how those players are faring and what impact the growth in volatility trading has on volatility itself.
Correction: The chart in this article has been amended to reflect a stock split in 2011.
Before it's here, it's on the Bloomberg Terminal.
LEARN MORE