Russian Stocks in New York Gain With Crude as Volatility Surges
ADRs rise as Brent crude prices post widest swings since 2009

Kremlin vows to retaliate as U.S. widens scope of sanctions
U.S.-traded Russian stocks rose as oil prices rallied in volatile trading, outweighing concern that the economy will be further squeezed by international sanctions linked to the Ukraine conflict.
A Bloomberg gauge of Russian stocks traded in New York added 0.8 percent to 49.87 in New York on Wednesday. Oil producer Gazprom Neft OJSC jumped to a six-week high. PAO TMK, a maker of pipes for the oil and gas industry, gained 4.6 percent after a 15 percent slump on Tuesday. Qiwi Plc slipped to a five-month low as UBS AG cut the electronic-payment processor to the equivalent of hold. The biggest exchange-traded fund tracking the country's stocks advanced for the sixth time in seven days.
The Bloomberg Russia-US Equity Index swung between a gain of as much as 1.3 percent and a loss of 1.4 percent. Stocks fluctuated as 15-day historical volatility in Brent crude prices surged to 81 percent, the highest level since March 2009. The oil grade traders use to price Russia's main export blend gained 1.9 percent to $50.50 a barrel after falling as much as 4 percent.
"Oil is playing a roller-coaster game with the Russian market," Vladimir Vedeneev, the chief investment officer at Raiffeisen Capital Asset Management in Moscow, said by phone on Wednesday.
Russian stocks traded in New York have slumped 25 percent from this year's high in April as oil, the country's biggest export and a major source of budget revenue, sells for about half its five-year average price. The slump in crude is exacerbating the impact of international sanctions, pushing the economy into its first recession since 2009. Gross domestic product has shrunk in each of the past two quarters, and economists surveyed by Bloomberg forecast a 3.7 percent contraction in 2015.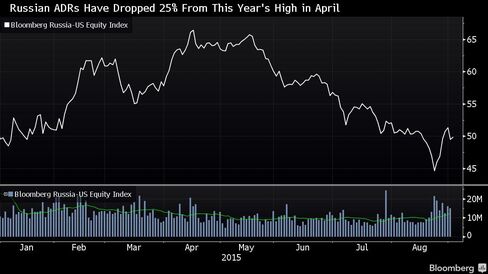 President Vladimir Putin's spokesman said Wednesday that Russia will retaliate after the U.S. widened sanctions. The measures target 29 entities in Crimea, Cyprus, Finland, Romania, Russia, Switzerland, Ukraine and the British Virgin Islands. Separately, the European Union reached an accord on a six-month extension of asset freezes and travel bans on Russians and Ukrainians accused of backing the separatist movement in Ukraine.
The ruble, the world's best performer earlier this year, weakened 0.3 percent to 67.079 per dollar after advancing as much as 1.8 percent earlier in the day.
Gazprom Neft gained 2.7 percent to $11.55. TMK advanced to $3.44. Hydropower producer RusHydro PJSC jumped 9 percent to 83 cents.
Qiwi dropped 5 percent to $21.18, widening its loss this week to 19 percent. UBS cut the stock from buy. CTC Media Inc. declined 5.1 percent to $1.67, the lowest level since the television broadcaster started trading in 2006. The Market Vectors Russia ETF added 1.7 percent to $15.88. Futures contracts on the RTS Index expiring Sept. 15 added 1.8 percent to 79,900 in U.S. hours.
Before it's here, it's on the Bloomberg Terminal.
LEARN MORE