Rebekah Brooks Returns to Lead Murdoch's News Corp. U.K.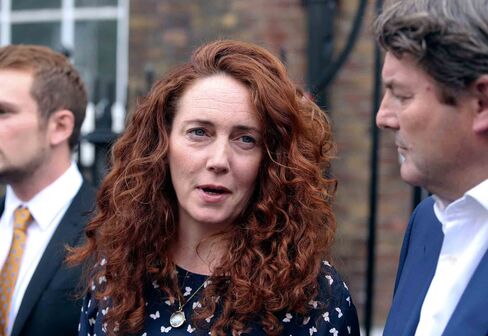 Her new role is latest sign of Rupert Murdoch's loyalty

She will work on developing digital properties, company says
Rebekah Brooks will return to her role as chief executive officer of News Corp.'s U.K. subsidiary, four years after resigning from Rupert Murdoch's company in the wake of a phone-hacking scandal at the now-defunct News of the World tabloid.
The comeback is the strongest sign of Murdoch's loyalty to Brooks, who had already been brought back into the fold earlier this year when she worked closely with a startup owned by News Corp. Murdoch supported her throughout the scandal and unsuccessfully tried to stop her from resigning in July 2011. At the time, when Murdoch and Brooks were surrounded by photographers and television crews outside his London home, he was asked about his priority. Murdoch gestured at Brooks and said, "This one."
She will replace Mike Darcey, who is leaving as CEO of News UK after three years in the job, and be responsible for acquiring and developing digital properties, the publisher said Wednesday in a statement.
Brooks "is fully rehabilitated and established again on the News Corp. fast track," said Alex DeGroote, a media analyst at Peel Hunt in London.
With the return of Brooks, Murdoch is further moving past the scandal that tainted his publishing company in the U.K. In June, the media mogul announced he was stepping down as CEO of 21st Century Fox Inc., which owns his film and TV assets, and handing the title to his son James. The move also signaled a comeback for James, who led the U.K. units in 2011 and was criticized by regulators for his role during the scandal. The Murdochs were never charged with wrongdoing.
Brooks, 47, had been the youngest editor of a British national newspaper, named to the helm of News of the World in 2000 before becoming the first female editor of the Sun in 2003. She was appointed CEO of the then-News International in 2009. Murdoch closed the News of the World in 2011 to quell public outrage and Brooks was subsequently arrested.
She was acquitted last year of all charges related to phone hacking, bribery and perverting the course of justice after scandal erupted amid the discovery that reporters hacked the phone of murdered 13-year-old Milly Dowler.
Hacked Off, a public-interest group that was set up during the scandal in 2011, said in a statement Brooks's reappointment "could only happen in a dynastic company where normal rules of corporate governance simply do not apply."
Meanwhile, U.K. prosecutors said they were reviewing a file of evidence related to potential corporate liability charges coming out of the police investigation into phone hacking at the News of the World. A successful corporate prosecution could lead to members of the board who are seen as the "controlling officers" facing charges, according to guidelines set out by the Crown Prosecution Service.
A News UK spokeswoman declined to comment on potential liability charges or on Hacked Off's statement.
This year Brooks has been working with Dublin-based Storyful, a startup bought by News Corp. in 2013 that helps newsrooms find and vet video content from across the Web.
Andy Coulson, a former editor of News of the World and an ex-lover of Brooks, was found guilty on one count of phone hacking.
On Wednesday, News Corp. also named David Dinsmore as chief operating officer at News UK, and Tony Gallagher as editor-in-chief of The Sun, Britain's largest-selling daily newspaper. Murdoch separated News Corp., which also publishes the Wall Street Journal, from Fox two years ago, creating two publicly traded companies.
(An earlier version of the story was corrected to remove description of Brooks's work at Storyful.)
Before it's here, it's on the Bloomberg Terminal.
LEARN MORE