Billionaire's 20-Year-Old Son May Lead $5 Billion Polyus Bid
Kerimov company may offer $2.97 per share in all-cash deal

Possible offer is 3% above one-month average trading price
Suleiman Kerimov's son, a university student in Moscow, may lead a $5.4 billion bid to take Russia's largest gold producer Polyus Gold International Ltd. private.
Wandle Holdings Ltd. and its Sacturino Ltd. unit, controlled by the billionaire's son Said Kerimov, are considering an offer to buy the shares of the gold miner they don't already own for $2.97 each, Sacturino said in a statement late Wednesday. The family already owns about 40 percent of the company, so a fully subscribed offer would value the deal at $5.4 billion, according to Bloomberg calculations.
Polyus shares rose as much as 6.9 percent and were up 3.7 percent at 196.50 pence ($3) as of 12:24 p.m. in London. The stock has climbed 8.3 percent this year, the third-best performer on the 10-company Bloomberg Europe 500 Metals and Mining Index, which dropped 26 percent over the same period.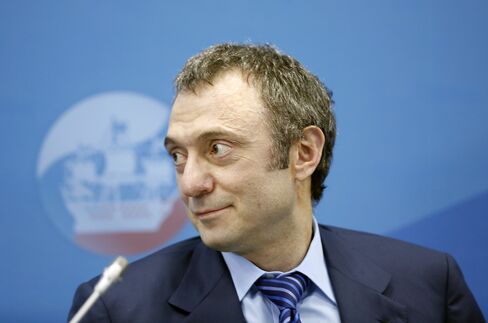 Kerimov senior, 49, Russia's 18th richest man with an estimated fortune of $4.9 billion, is a member of the Federation Council, the nation's upper chamber of the parliament. That obliges the billionaire to distance himself from his business empire and hold his assets in a foundation. A spokesman for Polyus Gold declined to comment.
London Listing
"Kerimov senior is a lawmaker and isn't allowed to do business by himself, so it's done through the son, which is technical," said Kirill Chuyko, chief of equity research at BCS Financial Group. "In theory, it could have been done even through the house maid."
Polyus said last year it was considering returning to Russia after shifting its primary listing to London through a reverse takeover of its U.K. unit in 2012. The Kremlin urged companies to delist from overseas stock markets in April 2014 as Russia's relations with the U.S. and Europe soured after its annexation of Crimea from Ukraine.
Should Polyus return its domicile to Russia, it would retain the London listing, Chief Executive Officer Pavel Grachev said in May. An offer from the Kerimov family was unexpected, he told Interfax on Thursday. A Russian unit, with a similar name, also trades in Moscow.
"The current share liquidity is very low and the company is already de-facto quasi-private, so it doesn't make sense to keep the premium listing," Sergey Donskoy, an analyst at Societe Generale SA in London, said by phone.
Cinema Acquisition
"The announcement may indicate that the owners decided to do such a deal instead of re-domiciling, as the Russian unit will remain traded," Chuyko said.
Said Kerimov is studying international business and administration at Moscow International Relations university, known as MGIMO, according to Forbes Russia. Last year the student made his first mark in business, when he bought Cinema Park, a chain of movie theaters, from billionaire Vladimir Potanin in a deal valued at $400 million, according to Vedomosti newspaper. Sacturino is "ultimately controlled" by Said, according to a separate statement from the unit of Wandle.
Other Polyus investors, Oleg Mkrtchan with an 18.5 percent stake and Gavriil Yushvaev with 19.28 percent, were not immediately available for comment.
Kerimov isn't the first lawmaker to give a portion of his fortune to a family member. Russia's State Duma deputy Andrey Skoch, 49, with a fortune estimated at $1.9 billion by the Bloomberg Billionaires Index, has transfered his stake in Metalloinvest Holding Co. to his father Vladimir.
Before it's here, it's on the Bloomberg Terminal.
LEARN MORE