Obama to Boost Federal Aid to Rural Alaska on Trip's Final Day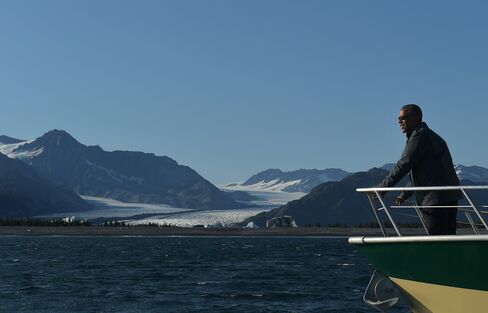 President Barack Obama will wrap up his final day touring Alaska with an historic visit to a remote fishing town in the Arctic and a series of new federal incentives designed to drive down energy costs for rural residents and protect traditional industries.
Most prominent on the president's agenda is a trip to Kotzebue, a town in northwestern Alaska where residents face the crush of expensive energy and an eroding coastline. It will be the first time a U.S. president has ventured north of the Arctic Circle.
Obama is scheduled to meet with community leaders and announce in a speech a new package of federal initiatives designed to help rural Alaskan communities. The administration is earmarking $2 million to help support voluntary relocation for longtime communities where severe weather and erosion have forced residents to consider uprooting.
"Rural and remote Alaskan communities face unique challenges due to a changing climate, and the federal government needs to step up its game," Brian Deese, a senior adviser to the president, said in a briefing with reporters.
The money will be distributed through the Denali Commission, an independent federal agency that has helped coordinate resources for rural Alaskans since 1998. The White House says the commission will now serve as a central clearinghouse for rural and Native Alaskans who have struggled to navigate the federal bureaucracy.
"We think we've landed on something that is workable and will make a meaningful difference," Deese said.
Fuel Tanks
The commission is also planning more than $15 million in grants for the construction of bulk fuel tanks in rural towns where residents often see astronomical heating costs due to the combination of cold weather and limited infrastructure.
Alaska Governor Bill Walker told reporters aboard Air Force One on Monday that one of the biggest misperceptions about Alaska is that the state's bountiful oil and gas resources have translated into cheap energy prices. In fact, Walker said, the state's enormous size makes energy infrastructure difficult to build -- and results in the nation's highest energy prices.
The Energy Department is launching a $4 million competition to solicit new ideas to improve the adoption of clean energy in rural Alaska, and will spend up to $6 million to deploy clean energy projects on Indian lands.
On Kodiak Island, home to the nation's largest Coast Guard base, the government is partnering with Matson Inc. and Kodiak Electric Association in a bid to have the island almost entirely powered by clean energy.
Fishing Industry
Earlier Wednesday, Obama will visit Dillingham, a fishing town on Bristol Bay that is the source of nearly 40 percent of U.S. wild seafood and known as the salmon capital of the world.
The president is slated to meet with fishermen for a discussion on the ways that climate change has made an impact on their industry, and how they're coping with the disruption of rising temperatures.
The city is also an opportunity for Obama to highlight the Environmental Protection Agency's move to block the construction of a proposed gold and copper mine that was the target of environmental groups. The group behind the Pebble Mine says the Obama administration colluded with those green groups and denied it an opportunity to apply through the normal permitting process, and are challenging the ruling in court.
Deese said the EPA had "well established authority to take the actions that they did and they did so based on a sound and thorough assessment."
"The EPA looked very closely at this issue and came to the conclusion that lots of others have come to: That ecosystem and that community is too fragile and too precious to warrant the risks that would be involved," he said.
Before it's here, it's on the Bloomberg Terminal.
LEARN MORE