Mood Darkens in Tokyo as Traders Boost Bearish Stock Bets
Put options most expensive compared to calls since 2011

Short-selling on TSE surges to highest since at least 2008
If Japan's options market is any guide, investors see little respite from the stock slump that's gripping Tokyo.
One-month puts that pay out if the Nikkei 225 Stock Average drops 10 percent cost 19 points more than ones betting on a rally, the widest gap since 2011, and traders have amassed the most bearish contracts relative to calls in five years. Bearish sentiment is just as visible in the stock market itself, where short-selling accounted for a record 41 percent of trades on Tokyo's exchange Tuesday.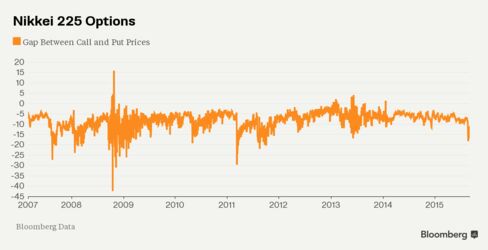 The nation's shares are among the world's worst performers since China unexpectedly devalued the yuan last month, roiling global markets and intensifying concern about the outlook for Japan's biggest trading partner. Kyoya Okazawa, head of global markets for Japan and Asia-Pacific equity derivatives at BNP Paribas SA, can't see light at the end of the tunnel.
"The options market is telling us that as long as this anxiety about China continues, we're unlikely to see higher stock prices" and suggesting little chance of a rebound through November at least, he said. "Downside fears are very strong."
The Nikkei 225 added 0.5 percent Thursday, its first gain in four days. After returning 13 percent in dollar terms during the first two quarters this year -- second only to Denmark's benchmark among developed markets -- the Japanese measure trailed the Standard & Poor's 500 Index in both July and August, the first back-to-back monthly underperformance since April 2014.
Higher Volatility
The Nikkei Stock Average Volatility Index spiked to 47.01 on Aug. 25, the most since Mar. 18, 2011. The measure closed at 35.65 on Thursday, above this year's average of 21.13.
There were 1.4 outstanding puts for every Nikkei 225 call last week, the highest ratio since June 2010. For Fivestar Asset Management Co.'s Kunio Kataoka, that reminds him of 2011, when the U.S. debt-ceiling crisis and the aftermath of the Fukushima nuclear meltdown caused bulls in the options market to retreat.
"There's a lack of risk takers who are betting on higher prices in Japanese stocks," said Kataoka. "The market is waiting to see if positive policy will be implemented or not" to bolster growth in China.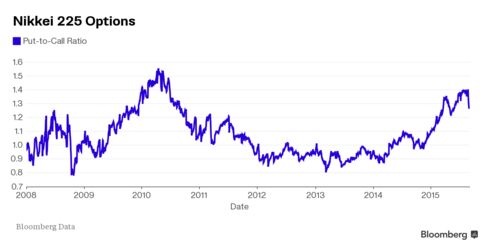 Japan's own economy is struggling to recover from a contraction in the second quarter as the China slowdown weighs on exports and domestic consumption remains weak. Credit Suisse Group AG's Stefan Worrall says the yuan devaluation means Shinzo Abe's most effective growth lever -- a weaker yen -- may be harder to pull in the future.
Stocks Oversold
"While we were all celebrating stories over here about Panasonic bringing back production lines back home to Japan, that's meant unemployed people in China and the authorities there are now really doing something about it," said Worrall, Tokyo-based director of equity cash sales at Credit Suisse. Still, if Chinese stimulus is promoting a stronger yen, the prospect of higher interest rates in the U.S. is doing the opposite. Japanese stocks have been oversold given the outlook for growth in the world's biggest economy, he said.
Short-selling accounted for 40.6 percent of trading on the Tokyo Stock Exchange on Wednesday. The ratio was 41 percent a day earlier, the highest ratio since the bourse began keeping daily records in 2008. The Nikkei 225's relative-strength index fell to 32, near the 30 level that some traders use to distinguish markets that have fallen too far, too fast.
Foreigners dumped 1.43 trillion yen of Japanese equities in the three weeks through Aug. 28, Tokyo Stock Exchange data updated Thursday show. That's the most for any three-week span on record, overtaking the period when Bear Stearns Cos. collapsed in 2008.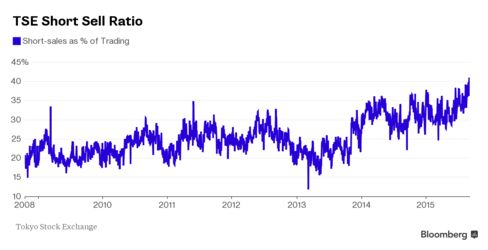 Some investors are using the slump in bullish option prices to speculate on a Bank of Japan-driven stock rebound, according to BNP's Okazawa. Open interest in November calls with a strike price of 21,000 rose to 3,704 contracts yesterday from 1,728 two weeks ago, exchange data show. About a third of economists surveyed by Bloomberg last month said the BOJ would likely add more stimulus to the economy on Oct. 30.
"Someone is taking upside risk around October on the assumption we'll see a policy response then," he said, noting that it's a minority view. "But the general view the options market is providing is that prices will stay depressed until at least through November."
Before it's here, it's on the Bloomberg Terminal.
LEARN MORE