Mexico's No Fed Copycat as Traders Bet It Will Raise Rate First
Currency tumble adds pressure to Mexico to Lift Rates First

Swaps show traders predict increase by October. Not so for Fed
Mexican policy makers have long signaled they'd follow the Federal Reserve's lead when it comes to raising interest rates. Now, traders are betting the Latin American nation may be first to act.
Mexico's central bank, known as Banxico, may have no choice but to boost its 3 percent benchmark rate this month for the first time since 2008 after the peso plunged to a record low, said Gabriel Lozano, JPMorgan Chase & Co.'s chief Mexico economist. Swaps show traders are betting on at least a quarter-point increase by the end of next month, while Fed futures show investors aren't pricing in a change in the federal funds rate until December.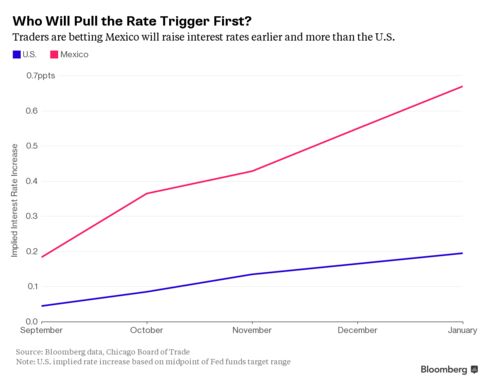 That's an about-face from recent months, when most indications were that Mexico wouldn't act until the U.S. did for fear of undermining an already shaky domestic expansion. Most Banxico board members said in policy-meeting minutes in June that boosting borrowing costs too soon could cause more harm than good in an economy that's fallen short of growth forecasts in eight of the past 13 quarters. The bank even went so far as to rearrange its 2015 meeting schedule in July to time any moves within days after a potential Fed hike.
"Even if the Fed decides to delay, we think Banxico has room to do something beforehand, given the recent performance of the currency," Lozano said from Mexico City. "That was the game changer."
The peso slid 3.8 percent against the dollar in August, its sixth straight monthly drop and the biggest this year. The currency is down 13 percent in 2015 after climbing 0.2 percent to 16.9436 per dollar Wednesday.
Tone Change
Mexico central bank policy makers, led by Governor Agustin Carstens, have changed their tone in recent weeks about how soon they're willing to move. In an interview last week, Carstens said they haven't ruled out raising rates first if it looks as if the weaker peso is fanning inflation. At Banxico's July meeting, when policy makers voted to leave the rate unchanged, a board member dissented for the first time since a rate cut last June, instead voting for a 25 basis-point increase.
"The peso has weakened in a significant way," Alejandro Padilla, the head of fixed-income strategy at Grupo Financiero Banorte SAB, said from Mexico City. "It could be a worry for the central bank if the drop accelerates again."
Mexico swaps are pricing in a 0.37 percentage point increase in the benchmark rate by the end of October. That's up from 0.21 percentage point implied at the end of July. Mexico's two-year swaps, which rise with bets for a rate increase, are near the five-month high reached Aug. 24.
Fed Outlook
Meanwhile, China's surprise currency devaluation in mid-August, which roiled markets globally, sparked speculation the Fed could push back its rate increase. The U.S. central bank cut its key rate to near zero in December 2008.
Chicago-traded Fed-funds futures show traders don't see a probable U.S. increase until December. On Aug. 10, the day before China's devaluation, there was a 53 percent probability for a move by the end of October.
Mexico's currency plunge could cause its central bank "to pull the trigger and do a rate hike" before the Fed, said Alonso Cervera, the chief Latin America economist for Credit Suisse Group AG in Mexico. "You never know with the peso what could happen."
Before it's here, it's on the Bloomberg Terminal.
LEARN MORE