Majority of Scots Would Back Independence Now, Poll Suggests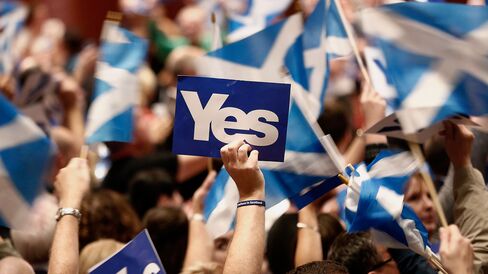 A majority of Scottish voters would back independence from the U.K. if a referendum were held tomorrow, a poll indicated.
The Ipsos Mori survey, carried out for STV between Aug. 24 and Aug. 30, found 53 percent of respondents saying they'd vote "Yes" to independence, with 44 percent opposed and 3 percent undecided, STV said on its website Wednesday. When Scots voted on independence a year ago, 55 percent opted to stay in the U.K. and 45 percent wanted to leave.
Ipsos Mori found that 50 percent of respondents would back a second referendum within five years and 58 percent would support another plebiscite within 10 years.
Support for First Minister Nicola Sturgeon's pro-independence Scottish National Party has surged in the wake of the referendum defeat, and the poll suggested the SNP is set to increase its majority in the Scottish Parliament in Edinburgh in elections in May next year.
The SNP has 55 percent support in voting intentions in individual districts, from which around two-thirds of lawmakers are elected and 50 percent backing in the party-list section of the voting. Seat projections suggest that would give the SNP 74 seats in the 129-seat legislature, STV said. The SNP won 69 seats in the last election in 2011.
Ipsos Mori questioned 1,002 voters. STV didn't give a margin of error.
For more, read this next:
Before it's here, it's on the Bloomberg Terminal.
LEARN MORE