The skyscraper at 20 Fenchurch Street in the City of London, nicknamed the Walkie Talkie, is the worst new building in Britain, according to a panel assembled by Building Design magazine.
The 37-story tower, designed by Rafael Vinoly, was made famous two years ago when a beam of light reflected from the building melted parts of a Jaguar sports car. The problem has since been remedied by developers Land Securities Group Plc and Canary Wharf Group Plc.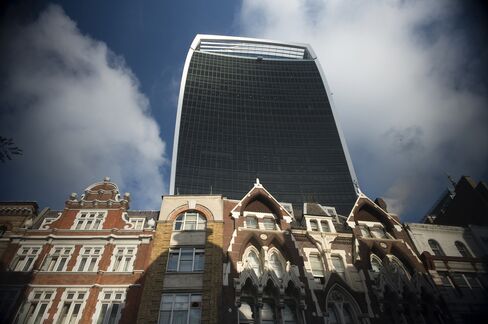 "It is a challenge finding anyone who has something positive to say about this building," Thomas Lane, editor of the magazine for architects, said in a statement on Thursday. "Londoners now have to suffer views of this bloated carbuncle crashing into London's historic skyline like an unwelcome guest at a party from miles away."
Construction of the tower, designed to have more space on the upper floors to maximize rental income, began in 2011 as the developers bet there would be a shortage of high-quality office space in the district following the global financial crisis. There are agreements in place to lease almost the entire building, where occupiers include units of Liberty Mutual Insurance and Markel International, Land Securities said in July.
The building has had complaints about high winds around its base and the quality of the public space at roof level, the judges said. Land Securities and Rafael Vinoly's office didn't immediately reply to a request for comment. Canary Wharf Group declined to comment.
Before it's here, it's on the Bloomberg Terminal.
LEARN MORE