Gold Traders Won't Come Out to Play as U.S. Jobs Report Looms
Gold traders are waiting on the sidelines before Friday's U.S. jobs report that will shed light on how well the economy is holding up amid global equity turbulence.
Volume across gold futures has been below the 30-day average for five straight sessions, a reversal from late-August when trading was on the rise. The Labor Department on Friday will release August payrolls data, the last major employment report before Federal Reserve policy makers meet later this month.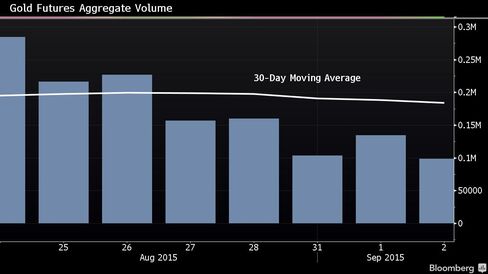 Central bank officials are monitoring progress in the jobs market to determine whether the economy can withstand the first interest-rate increase since 2006. Investors have snubbed gold, sending prices down about 10 percent over the past year, in anticipation of monetary tightening. Higher rates curb the appeal of bullion, which doesn't pay interest or offer returns, unlike competing assets.
Gold's volatility has climbed in the past month as slowing growth in China sparked a global equity selloff and boosted speculation that the Fed would wait longer before raising rates. Central bank officials have given differing signals on where policy is heading, also spurring swings in metal prices. New York Fed President William C. Dudley said recent financial-market turmoil weakened the September liftoff case, while Fed Vice Chairman Stanley Fischer remained confident inflation would move higher. The Federal Open Market Committee will gather in Washington Sept. 16-17.
Volume in gold has dropped before other jobs reports this year. In August, trading was below the 30-day average in the four sessions leading up to the release. While in July, it was below the level for three of the four days before the data.
Gold futures for December delivery dropped 0.9 percent to $1,123.80 an ounce at 9:27 a.m. on the Comex in New York.
Before it's here, it's on the Bloomberg Terminal.
LEARN MORE