Merkel's Party Marks Limit on Its Acceptance of Refugees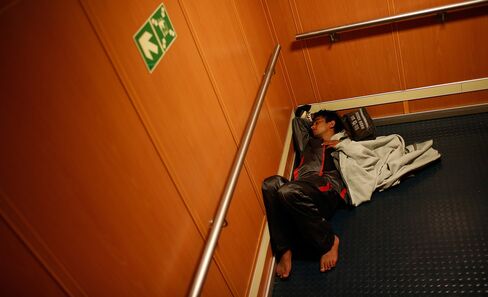 Lawmakers in German Chancellor Angela Merkel's bloc laid down a marker against surging refugee numbers, saying economic migrants aren't welcome.
"Economic distress is no grounds for asylum," Merkel's Christian Democratic-led caucus in the lower house said in a policy statement presented in Berlin on Wednesday. "We don't want migration into the social-welfare system."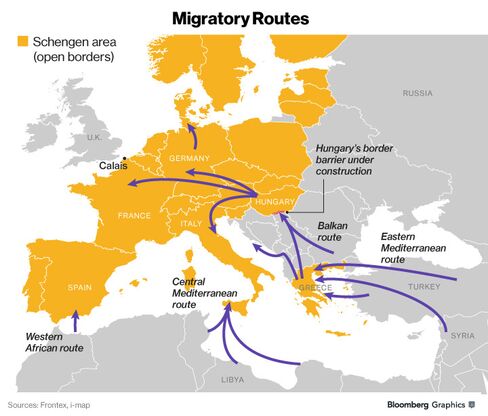 The language signals political limits in Merkel's bloc to the acceptance of as many as 800,000 refugees expected in Germany this year, after the chancellor called on citizens to embrace the newcomers and decried attacks on shelters.
Government data showed 413,000 refugees arrived in Germany this year through August, almost a quarter of them from Syria's civil war and 100,000 last month alone. Interior Minister Thomas de Maiziere also told lawmakers that 340 attacks on shelters took place this year, a contrast with scenes of refugees arriving this week at Munich's main train station, where police asked citizens to stop bringing food and provisions.
In an interview with ZDF German public television later on Wednesday, de Maiziere said he still rejects the introduction of an immigration law that would replace a set of existing rules that regulate how foreigners can come to Germany. Even so, the government could consider extending legal labor immigration to citizens of some Balkan states.
Spending Boost
Merkel's government began facing up to the cost of caring for the refugees as estimates of the budget impact of Europe's biggest migrant crisis since World War II increase.
"We need clarity quickly on financial assistance," de Maiziere told reporters in Berlin. Deputy Finance Minister Jens Spahn, asked in a Bloomberg Television interview in Frankfurt about the price tag of aid to refugees, said, "it will be billions, we're still calculating."
Merkel's government plans to present a package of measures within three weeks to help fund municipalities, ease building rules and streamline bureaucracy for housing and registering refugees. Federal support payments for asylum seekers this year will increase by as much as 3.3 billion euros ($3.7 billion), Labor Minister Andrea Nahles told reporters Tuesday.
Party leaders of Merkel's governing coalition will discuss the measures on Sunday and probably complete the legislation by Sept. 24 when the chancellor and leaders of Germany's 16 states meet, de Maiziere said. The measures could be approved by the lower house in October, he said.
For more, read this QuickTake: Political Asylum
Before it's here, it's on the Bloomberg Terminal.
LEARN MORE