Eurostar Cancels Two Trains After Disruptions Tuesday in Calais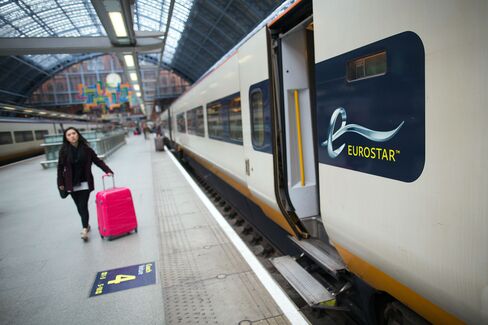 Eurostar International Ltd. canceled two trains Wednesday between London and Paris following disruptions in Calais, France.
The 7:55 a.m. train from London to Paris and the 11:13 a.m. from Paris to London are canceled, and service otherwise will run normally, Eurostar said in a statement on its website. Two trains returned to London and Paris late Tuesday, the company said. Services were scrapped because the presence of intruders thought to be migrants in the tunnel, Agence France-Presse said, citing an unidentified Eurostar spokesman.
The disruption comes two months after a strike by workers at MyFerryLink led to burning tires and rubble blocking the sub-sea route connecting the U.K. to France. At the time, the U.K. advised travelers to lock car doors in slow-moving traffic leaving Calais because of large numbers of undocumented migrants who may seek to enter the U.K.
For more, read this QuickTake: Political Asylum
Before it's here, it's on the Bloomberg Terminal.
LEARN MORE