Columbia Students Get Glimpse of SNB Secrets on Swiss Franc Cap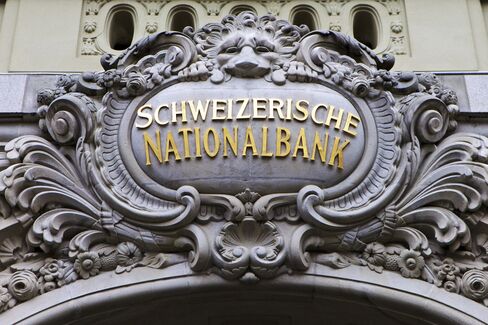 Former SNB Vice President Danthine now adjunct professor

SNB dropped cap on franc in January in surprise move
Students at Columbia University will get a veritable peek behind the scenes at the Swiss National Bank thanks to their professor Jean-Pierre Danthine, a policy maker at the institution when it rocked markets earlier this year by giving up its cap on the franc.
Danthine, 65, who recently retired from his post as vice president at the SNB, began teaching the course "Central Banking after the Crisis: a European Perspective" in New York this week. As the syllabus notes, Danthine's tenure included massive currency market interventions to defend the minimum exchange rate on the franc, set in 2011 to limit its appreciation past 1.20 per euro, as well as the introduction of negative interest rates late last year.
"It will include the effectiveness of unconventional monetary policies on the costs and benefits of alternative exchange rate regimes for small, open economies," according to the syllabus. "The very extraordinary Swiss case study will help understand key aspects of current central banking practice and the reasons for investors' dependence on central bankers' words and deeds."
Faced with the prospect of a flood of money as euro-area quantitative easing was poised to start, the SNB gave up its ceiling in mid January. The move, just three days after Danthine had said in an interview the cap should "should remain a pillar" of policy, caught investors completely off guard and sent markets into a tailspin. SNB policy makers have stressed the ceiling was abandoned because it would have been costlier to maintain it.
The business school students will be evaluated on the basis of classroom participation and a group project, according to the syllabus.
Before it's here, it's on the Bloomberg Terminal.
LEARN MORE