Chile Is Now More Hooked on China Than Ever
Latin America's wealthiest nation doesn't want to rely on one commodity and one market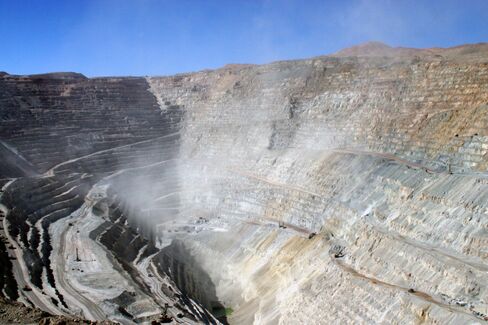 The more China's economy falters the more Chile's dependence on it seems to grow.
That's a cause of concern for Latin America's wealthiest economy, which has spent the past 30 years trying to diversify. Instead its reliance on a single market and a single commodity has just become more pronounced as copper prices keep falling and China's economic turmoil ensnares global markets.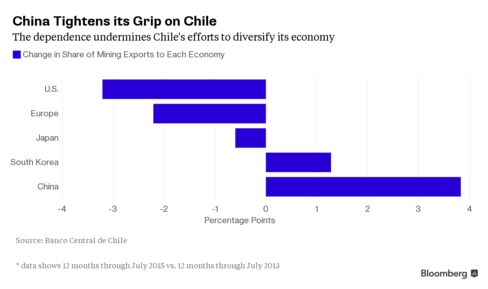 Sales to China represented a quarter of exports in the first half of 2015, more than any other country in the Americas.
For a country that stands out among its neighbors for sound economic management, it's a problem. The Chinese government has allocated in excess of $400 billion for share purchases to prevent a meltdown on the local stock market and investment is rising at the slowest pace since 2000 as industry grapples with overcapacity. Now is not the time to rely on a Chinese housing boom and a metal that has slumped 28 percent in the past year.
The graph below shows a slump in copper exports to Europe, Japan, Korea and the U.S., compared to the relative strength of sales to China. While Chilean exports fell 12 percent in the first half of the year amid the global turmoil, sales to China are down only 3.6 percent and 80 percent of those are copper.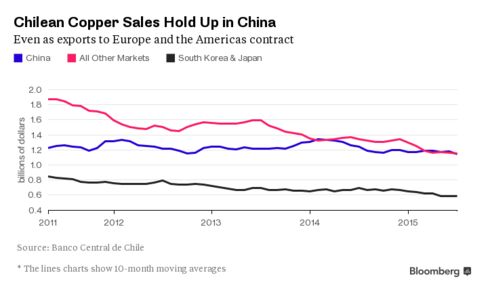 Before it's here, it's on the Bloomberg Terminal.
LEARN MORE