BofAML: There's a New Disconnect Between Stocks and Bonds
Welcome to 'capital structure anarchy'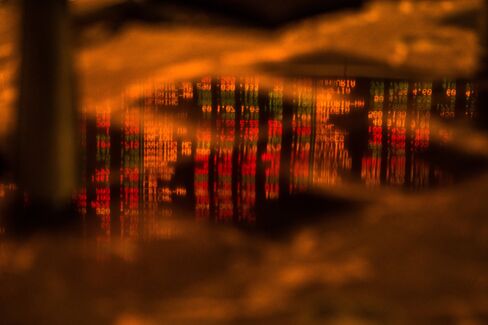 A growing disconnect between bond and equity markets, by which credit spreads widen while the implied volatility of the Standard & Poor's 500-stock index remains subdued, has come to be viewed as an omen for the current selloff in stocks.
Credit strategists at Bank of America Merrill Lynch, led by Hans Mikkelsen, first mentioned the decoupling of these markets in late July.
Two weeks later, on Aug. 13, they observed that the disconnect had become more severe.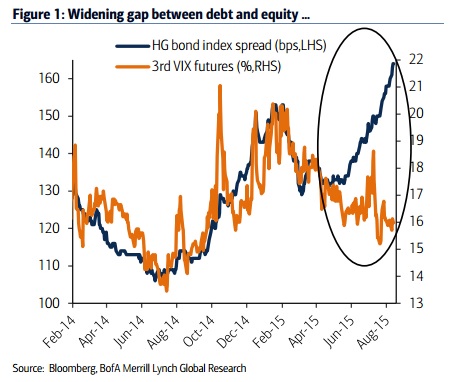 "Credit spreads from our high-grade corporate bond index have widened another 9 basis points to 164 basis points while equity volatility is down another percentage point," they wrote at the time. "That translates into 10.26 basis points of credit spread per point of equity vol, the level reached on March 6, 2008—ten days before Bear Stearns was forced to sell itself to JP Morgan for $2 per share."
As happens with remarkable frequency in financial markets, not only has this discrepancy between stock volatility and credit spreads been eliminated amid the recent carnage in equities, but a new gap has opened.
Relative to investment-grade corporate bonds, equities now appear to be inexpensive, the BofAML team concludes.
"Not only has this gap closed, but with this week's additional equity underperformance—including especially [Tuesday's] nearly 3 percent decline—equities have overshot meaningfully to the cheap side relative to credit," the strategists wrote in a new research note.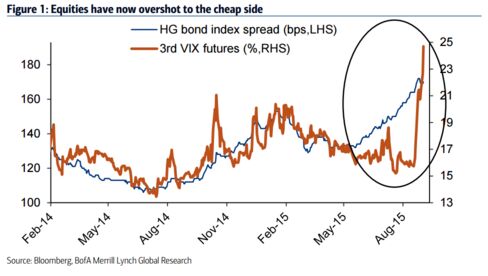 Still, the continuous disagreement between these tightly linked asset classes constitutes "capital structure anarchy," according to Mikkelsen's team.
Before it's here, it's on the Bloomberg Terminal.
LEARN MORE