Australia's Future Fund Boosts Cash Levels as Global Risks Mount
Cash allocation at six-year high for sovereign wealth fund

Returns will be ``harder to achieve'' given economic outlook
Australia's sovereign wealth fund boosted its cash holdings to a six-year high to curb risks and said returns may be lower going forward amid concerns about the global economic outlook.
The Future Fund said cash made up 19.5 percent of its A$117.2 billion ($82 billion) of assets under management as of June 30, up from 11.2 percent last year. It returned 15.4 percent in 2014-15 and warned that "prospective returns will likely be harder to achieve given the run up in asset prices and a somewhat mixed global economic and market outlook."
Money managers have increased cash levels amid concern about slowing growth in China just as the Federal Reserve prepares to raise interest rates for the first time since 2006. Global stocks slumped by the most in three years last month, wiping more than $5 trillion from the value of shares, with the decline in equity markets continuing this week.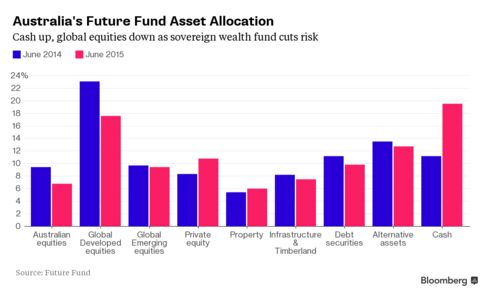 The Future Fund reduced its holdings of Australian equities to 6.8 percent from 9.4 percent a year earlier, while global equities made up 27 percent of its total portfolio compared from 32.8 percent last year.
The portfolio "is what we think has the right balance of risk and return given current conditions," Managing Director David Neal said on a media call, in response to a question on its increased cash holdings."I don't see any reason why the portfolio will change unless the environment around us changes."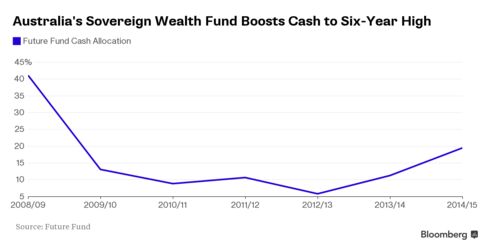 Before it's here, it's on the Bloomberg Terminal.
LEARN MORE