Turkey Escalates Gulen Witch Hunt With Koza Ipek Raids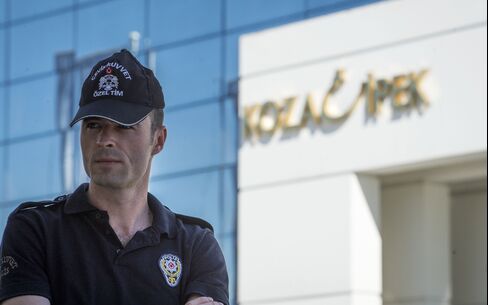 In the interlude between Turkish elections, police are cracking down on President Recep Tayyip Erdogan's biggest enemy, raiding 23 businesses that include newspapers, TV stations and the nation's largest gold miner.
Police on Tuesday raided the Ankara headquarters of Koza Ipek Holding, a conglomerate linked to Erdogan's former ally turned rival, U.S.-based cleric Fethullah Gulen. Koza Ipek was accused of financing Gulen's "terrorist organization" and disseminating its propaganda, state-run Anadolu Agency said, citing police.
The raids are the latest step in Erdogan's campaign against Gulen, which started following a series of police probes into alleged government corruption in 2013. Erdogan denied the charges, saying Gulen followers within state institutions were carrying out a "coup." Thousands of civil servants were purged in retaliation.
Opposition party CHP lawmaker Baris Yarkadas warned that he had information that the crackdown would widen to target other media organizations critical of Erdogan as he prepares for Nov. 1 general elections. The elections are key to Erdogan's ambitions to accrue more powers to the presidency, which would require the governing AK Party he founded to win a parliamentary majority allowing it to change the constitution.
Politicized Judiciary
"For investors, this underlines the continued politicization of judiciary and regulatory bodies in Turkey, and the elevated threat of political risks to opposition-linked business during the election period," said Jonathan Friedman, a Turkey analyst at global risk consultancy Stroz Friedberg.
The lira weakened after the reports of police raids but later trimmed losses. The currency was trading little changed at 2.9166 per dollar at 2:50 p.m. in Istanbul. Share prices of gold miner Koza Altin Isletmeleri, Ipek Dogal Enerji and Koza Anadolu Metal, the three Koza Ipek Holding affiliates listed on the main stock index, declined the most among listed companies, each more than 10 percent. The firms' combined market capitalization stood at about 4.6 billion liras ($1.59 billion) after the raids.
Prosecutors also ordered the detention of Koza Ipek Chairman Akin Ipek and six other senior managers, including the group's chief executive officer, Haberturk reported, citing judicial officials it didn't identify. Anadolu earlier reported that Akin Ipek had left the country. Koza Ipek group holdings transferred $7.04 billion to their accounts in Bahrain, Malta, Cyprus, according to a search warrant published by Hurriyet.
Investor Confidence
"The operation hurts investment and investors' confidence in Turkey," said Haydar Acun, an Istanbul-based fund manager at Marmara Capital.
The police sweep came soon after whistle-blower Fuat Avni said on social media that Erdogan ordered a crackdown on Gulen-affiliated companies in an attempt to silence dissident news organizations ahead of the November vote.
Bugun newspaper, owned by the Koza Ipek group, ran a front-page story on Tuesday accusing Erdogan's administration of allowing shipments of weapons to Islamic State in Syria. The story "may have angered" the government, Bugun newspaper editor-in-chief Erhan Basyurt said in phone interview from Istanbul. "The real purpose of the raid is to intimidate the media," he said.
"Erdogan wants to silence critical media ahead of the November elections," said Anthony Skinner, head of analysis for the Middle East and North Africa at U.K.-based forecasting company Verisk Maplecroft. "Such actions, however, serve as negative PR for Erdogan and are perpetuating concerns among investors about Turkey's toxic political environment."
A Turkish government spokesman declined to comment. Prime Minister Ahmet Davutoglu convened the first meeting of the interim cabinet Tuesday afternoon.
Before it's here, it's on the Bloomberg Terminal.
LEARN MORE