The Pope Emerges as Key Election Player in His Native Argentina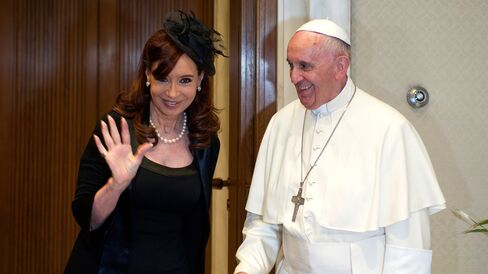 He has met candidates and president ahead of elections

Wants to ensure peaceful handover of power in December
The leading candidate to be Argentina's next president has pledged to create a people's ministry of economy to "fulfill Pope Francis' dream." His main opponent has met twice with Francis in Rome. President Cristina Fernandez de Kirchner has visited the pope six times in his two years in office.
It is no surprise that Argentine politicians, facing a first round of elections on October 25, want to bask in the glow of the planet's most influential Argentine and Roman Catholic. Perhaps more noteworthy is the way this pope seems to be playing along, offering his image and blessing to the cause of Argentine democracy.
"It is the pope's way of guaranteeing a peaceful handover of power," said Jorge Castro, director of the Institute of Strategic Planning in Buenos Aires, noting that political transitions in Argentina have usually brought crises.
While he has neither returned to his homeland since assuming the papacy in 2013 -- despite visiting neighbors Brazil, Bolivia and Paraguay -- nor favored any candidate, Francis has embraced numerous visits from fellow Argentines, including those with a political tinge.
Falklands Dialogue
Last month, at a weekly public gathering, an activist thrust into his hands a sign that called for dialogue between Argentina and the U.K. over the Falkland Islands, which belong to Britain but are claimed by the Argentines. The pope was photographed holding the small poster and smiling. President Fernandez tweeted the photo.
A spokesman for the Pope quickly sought to quash the attempt to link him to the cause, saying people often gave Francis things at such gatherings and he had no idea what the sign was at the time.
By his own admission, Francis finds it hard to abstain when he thinks his involvement can make a difference on a subject close to his heart. He has supported dialogue in disputes such as the one between Turkey and Armenia and the U.S. and Cuba.
In the Falklands case, though, advocating dialogue might be seen as taking sides. The U.K. sees such a call as an effort to open a closed case: There is nothing to talk about.
Exploited
The pope has publicly acknowledged the risk of being exploited by political causes and figures.
"I have to say it, sometimes I've felt used by the country's politics - by Argentine politicians asking for an audience," Francis said in an interview with Mexico's Televisa in March.
As Archbishop of Buenos Aires, the pope, then known as Jorge Bergoglio, didn't shy away from involving himself in Argentina's abrasive politics. He criticized Fernandez and her late husband and predecessor Nestor Kirchner for failing to tackle poverty. In 2010 he led protests against her proposal to legally recognize same-sex marriage.
When he worked across the square from Argentina's presidential palace, the pope had trouble getting an audience with Fernandez, seeing her three times in six years, never in private.
Smooth Transition
Now he's come under fire from some in Argentina's media for meeting with her so often, a gesture that some see as an endorsement of her government and party in this election cycle.
The pope actually thanked Argentine journalist Alfredo Leuco for his frankness after he wrote an open letter saying that for Fernandez, "being able to show herself at your side is a big help for her."
It may be that for Francis a bit of political exploitation of his image is a small price to pay to achieve his objectives of ensuring a smooth transition of power on Dec. 10. Analysts say he is making a difference.
"All of Argentina's political cycles in the past 40 years have ended in a state of crisis and this time that's not the case," Castro, the political analyst, said. "Without a doubt one of the elements that has allowed for a transition without a crisis is the presence of Pope Francis."
Polarizing Effect
Francis has succeeded in bringing the main candidates together, after a fashion. Daniel Scioli, who received the most votes in primaries last month, invited Buenos Aires Mayor Mauricio Macri, his main opponent, to the launch of an exhibition on the pope at a book fair in Buenos Aires last year. He attended.
The pope's main concern seems to be to bring an end to the polarizing effect Fernandez and her late husband exerted over Argentine politics, said Enrique Zuleta Puceiro, a pollster and political analyst. By setting aside their fractious past and forging a friendship with Fernandez, he's played a subtle hand in changing the political climate in Argentina, he said.
"He understands that his voice reaches a long way in Argentina," Zuleta Puceiro said. "There's a rhetoric of collaboration in the air in Argentina that's replaced the rhetoric of conflict that characterized a good part of the last ten years."
For more, read this QuickTake: Pope Francis
(An earlier version of the story corrected Bergoglio's first name.)
Before it's here, it's on the Bloomberg Terminal.
LEARN MORE