Oil Traders See Bungee Cord Snap Back in Wild Market Swings
Biggest three-day rally since 1990 followed by plunge

WTI moves more than 5 percent in five of past seven days
Oil's bungee cord snapped back Tuesday, extending the market's wildest swings in seven months.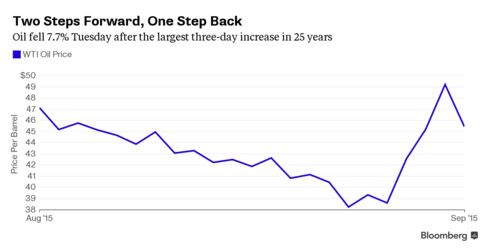 After surging 27 percent in three days, prices tumbled almost 8 percent Tuesday. At the heart of the reversal were doubts that OPEC and other oil exporters will be able to coordinate a production cut.
"We haven't had that Goldilocks moment -- it's always too hot or too cold," Carl Larry, head of oil and natural gas for Frost & Sullivan LP, said by phone from Houston. "We're all a lot like OPEC right now in trying to find fair value."
The Chicago Board Options Exchange Crude Oil Volatility Index climbed to the highest level since March 17. The gauge of hedging costs on the U.S. Oil Fund, the biggest exchange-traded fund tracking WTI, advanced 40 percent in August, the most this year.
WTI for October delivery dropped $3.79 to close at $45.41 a barrel on the New York Mercantile Exchange. Futures touched $37.75 on Aug. 24, the lowest since Feb. 24, 2009.
Even as speculation bubbled that producers would rein in output, concern increased that demand from China may slow.
"All of Asia appears to be falling apart, not just China, and that's the demand center of the world," John Kilduff, a partner at Again Capital LLC, a New York-based hedge fund, said by phone. "We're going to return to the recent lows."
Before it's here, it's on the Bloomberg Terminal.
LEARN MORE