Macau Gaming Plunges 36% as New Casinos Fail to Spark Visits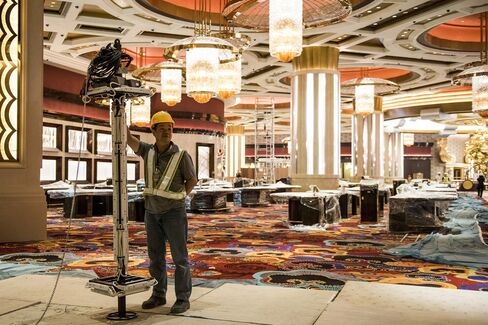 Macau's casino malaise deepened in August, with gaming revenue falling a 15th straight month as the recent opening of new gambling resorts failed to rouse a return of mainland Chinese visitors over the popular school holiday season.
Gross gaming revenue fell 35.5 percent to 18.6 billion patacas ($2.3 billion), widening from July's 34.5 percent drop, data from Macau's Gaming Inspection and Coordination Bureau showed. That compared with the median estimate of a 37.8 percent fall from seven analysts surveyed by Bloomberg.
The casino downturn has dragged Macau's GDP to its lowest since 2011 as an economic slowdown in China curbed visits by mass market gamblers and high-rollers avoided the city amid Beijing's crackdown on graft.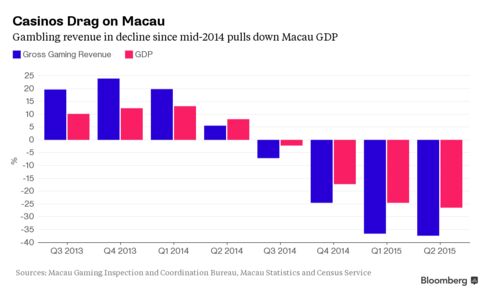 While operators hoped new projects including Galaxy Entertainment Group Ltd.'s two casinos opened in May would revive demand, travel to Macau fell in July with visitors from China-- the biggest group -- down 6.1 percent.
"After the opening of Galaxy phase two in May, the downward trend of gaming revenue has been remaining steady, which means incremental revenue brought by the new opening is basically zero," said Richard Huang, an analyst at Nomura Holdings Inc. "The tougher call is when the mass market can really offset the destruction of high-end demand."
Galaxy's table-only market share fell to 21.4 percent over the Aug. 1 to 23 period, from 23 percent in July, while rival Sands China Ltd.'s grew to 24.6 percent from 23.4 percent, according to data from Barclays Plc.
Macau casino shares closed lower, with Galaxy falling 3.6 percent and Sands China down 2.4 percent by the end of trading in Hong Kong. The benchmark Hang Seng Index dipped 2.2 percent.
Spending Cuts
Gross gaming revenue has fallen 36.5 percent year-to-date. August's deeper decline reversed an easing in the industry since February when monthly revenue plunged by a record 48.6 percent.
In response to the casino industry downturn, Macau will cut public spending by about 1.4 billion patacas in the fiscal year of 2015, reducing costs in areas such as the purchase of daily supplies and third-party services, according to a government statement posted on Tuesday.
As Macau's casino revenue dipped, the government may have been motivated to boost gaming revenue by allowing Chinese passport holders to visit more frequently and stay longer starting from July, while being "lenient" on the execution of a proposed smoking ban, Nomura's Huang said.
Macau lawmakers are reviewing a bill to ban smoking on all the gambling floors, a discussion that could take a year to complete. Galaxy is "pleased" the government has "indicated some flexibility and are open-minded to consider the retention of smoking lounges" as the move would be positive for the industry, the company had said in August.
Yuan Impact
China's devaluation of yuan may hinder Macau's hoped-for recovery as the weakening currency alone will have an 8 to 10 percent downward impact on mass gross gaming revenue in 2016, Daiwa Securities Co. analysts led by Jamie Soo wrote in a research note last month.
As the yuan weakened against the U.S. dollar in the past month, converting the Chinese currency to the greenback-pegged Hong Kong dollars will cost gamblers more, the Daiwa analysts wrote. Macau casinos mainly accept Hong Kong dollars and Macau patacas, which is also pegged to Hong Kong's currency.
--With assistance from Daryl Loo.
Before it's here, it's on the Bloomberg Terminal.
LEARN MORE