Labour's Cooper Says U.K. Could Take 10,000 Middle East Refugees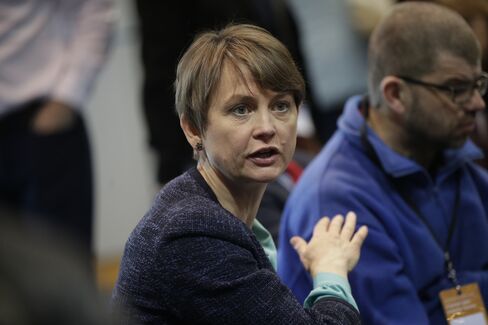 Yvette Cooper, who's running for the leadership of the U.K. opposition Labour Party, said Britain should take in 10,000 refugees from the Middle East.
Cooper, predicted to come third in this month's contest by bookmakers, was attempting to take on the view that surprise favorite Jeremy Corbyn is the only candidate in touch with the core values of Labour members. In a speech in London Tuesday, she said Britain hasn't responded adequately to the current crisis that's seen tens of thousands of people seeking refuge in Europe from wars and other conflicts.
"If every city took 10 refugee families, if every London borough took 10 families, if every county council took 10 families, if Scotland, Wales and every English region played their part, then in a month we'd have nearly 10,000 more places for vulnerable refugees fleeing danger, seeking safety," Cooper said.
Data published last week showed that there were only 25,771 asylum applications in Britain in the 12 months to March, even as annual net long-term migration rose to the highest on record. By contrast, Germany is grappling with the possible arrival of 800,000 refugees this year.
Prime Minister David Cameron's spokeswoman, Helen Bower, told reporters later that Britain had "a proud history of providing refuge to those in need and we should continue to do so, while also tackling illegal economic migration."
Before it's here, it's on the Bloomberg Terminal.
LEARN MORE