Korean Bond Yields Headed for Fresh Lows, Biggest Brokerage Says
South Korea's government bonds are expected to rally this month, pushing yields to new lows, as a worsening outlook for the economy bolsters the case for interest rates to be cut, the nation's biggest brokerage said.
The three-yield will sink as low as 1.65 percent, said Yoon Yeo Sam, a fixed-income analyst at Daewoo Securities Co. in Seoul, who predicts the Bank of Korea will lower its benchmark rate by 25 basis points to an unprecedented 1.25 percent in the fourth quarter. The yield fell to a record 1.69 percent in April and has since risen to 1.73 percent.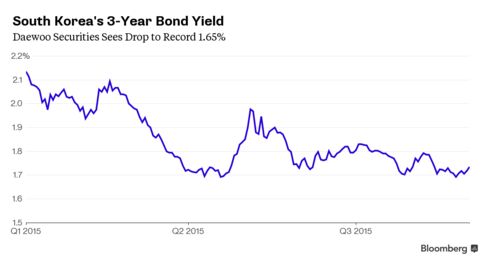 South Korea's exports slid 15 percent from a year earlier in August, data showed Tuesday, the most since 2009 and a bigger drop than was forecast by all 14 analysts in a Bloomberg survey. Separate reports showed inflation held below 1 percent for the ninth month in a row, trailing the central bank's target of 2.5 percent to 3.5 percent, and a gauge of manufacturing in China was the weakest in three years. Exports account for about half of South Korea's gross domestic product and China is the No. 1 destination for shipments.
"The slide in August exports was much more than expected and inflation remains low, showing weak economic momentum," Yoon said. "I see no local reasons to drive bond yields up for the foreseeable future."
The yield on South Korea's June 2025 notes rose three basis points to close at a three-week high of 2.32 percent in Seoul, tracking an overnight increase in rates on U.S. government debt. Yoon forecast the 10-year yield will drop as low as 2.15 percent this month.
Before it's here, it's on the Bloomberg Terminal.
LEARN MORE