Japan Stocks Fall as Toshiba Slides on New Accounting Problems
Topix index extends biggest monthly loss in three years

China's official factory gauge falls to lowest in three years
Japanese stocks fell, after the Topix index posted its worst monthly drop in three years, amid concern about China's slowing economy and spiraling stock-market losses. Toshiba Corp. slid after saying it found new accounting problems.
Nisshin Steel Co. slumped 6.6 percent after Nomura Holdings Inc. cut its target price on the steel producer. Topcon Corp. plunged 3.4 percent after Toshiba said it will sell its stake in the medical-equipment maker. Toshiba slid 5.3 percent after saying it uncovered 10 new cases of accounting irregularities. Pioneer Corp. jumped 2.7 percent after a report the autoparts maker has developed an inexpensive optical system for self-driving cars.
The Topix slipped 3.8 percent to 1,478.11 at the close of trading in Tokyo, after Monday capping its biggest monthly plunge since May 2012. The Nikkei 225 Stock Average fell 3.8 percent to 18,165.69. The yen gained for a second day, adding 0.6 percent to 120.49 per dollar. The official gauge of China's manufacturing industry fell to the lowest reading in three years as interest-rate cuts failed to revive old growth drivers.
"Investors are concerned about the strength of the global economy," said Ayako Sera, a Tokyo-based strategist at Sumitomo Mitsui Trust Bank Ltd. "Even though oil rebounded, stocks are still dropping, which shows investors don't have confidence."
Global Rout

The rout in global equities last month erased more than $5 trillion from the value of shares as Chinese policy makers tried to bolster their market amid growing concern that its economy may be in worse shape than analysts had estimated. The Topix lost 7.4 percent in August, with price swings becoming more extreme as the month wore on.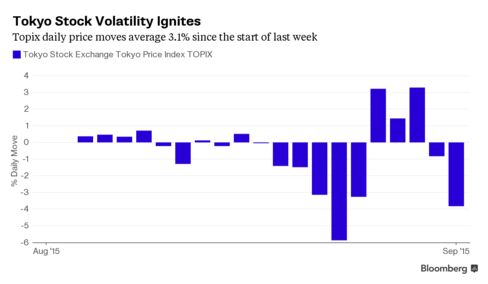 China's stocks on Monday capped their biggest two-month slide since 2008 as bearish bets in the options market climbed and Goldman Sachs Group Inc. cut its forecast for economic growth. The official Purchasing Managers' Index was 49.7 for August, matching the median estimate in a Bloomberg survey and down from 50 in July. Numbers below 50 indicate contraction. The Shanghai Composite Index lost 2.2 percent as of the Tokyo close on Tuesday.
"We know the Chinese economy is weakening, but we want to see how the deceleration impacts its major trading partners," said Toshihiko Matsuno, chief strategist at SMBC Friend Securities Co. in Tokyo. "Japanese shares jumped for three days last week, so it's possible those who bought over the last week want to take profits."
Nisshin Steel dropped 6.6 percent after Nomura cut its target price on the stock by 24 percent.
Topcon, Toshiba
Topcon fell 3.4 percent after Toshiba, its biggest investor, said it plans to sell its 30 percent stake in the company for 50 billion yen ($415 million) to 60 billion yen. Toshiba lost 5.3 percent, the most since May 11, after saying it discovered new accounting irregularities related to a U.S. unit's construction project.
Pioneer gained 2.7 percent, one of only two companies on the Nikkei 225 to rise. The company has completed its trial manufacture of a sensor that's considered necessary to enable automated driving, it said, confirming an earlier report by the Nikkei newspaper.
Data in Japan showed that capital spending rose 5.6 percent on the year in the second quarter, missing economist estimates for an 8.8 percent gain. This suggests the country's economy shrank more than the initial estimate of a 0.4 percent contraction on the quarter, said Marcel Thieliant, an economist at Capital Economics.
Bets on a September U.S. interest-rate increase climbed after Federal Reserve Vice Chairman Stanley Fischer said over the weekend there is "good reason" to believe inflation will accelerate and that the Fed should not wait until it hits its inflation goal to act. Investor attention will focus this week on the U.S. August jobs report, due Friday, as the last major data point before the Fed's meeting on Sept. 16-17.
Futures on the Standard & Poor's 500 Index fell 1.8 percent after the underlying measure lost 0.8 percent on Monday, capping its worst month in more than three years.
Before it's here, it's on the Bloomberg Terminal.
LEARN MORE