Japan's Amari Sees No Systemic Risk From Stock-Market Rout
The global stock selloff triggered by concerns about China's slowdown is different from the Asian financial crisis or the Lehman Brothers bankruptcy as it doesn't pose a systemic risk, said Japan's Economy Minister Akira Amari.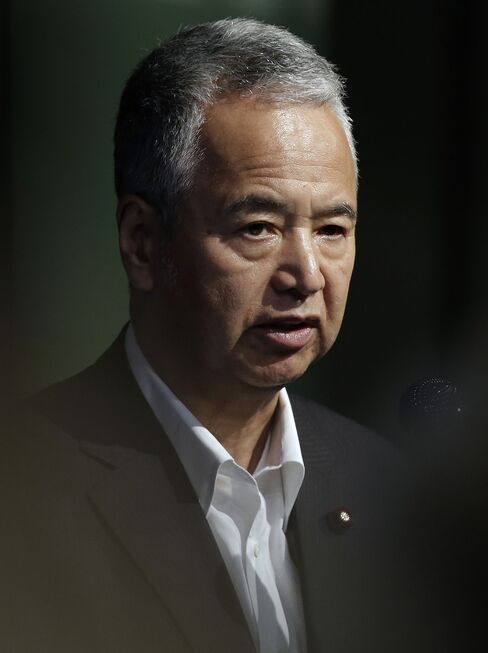 "The economic base itself in China isn't shaky," Amari said at a seminar hosted by Bloomberg in Tokyo on Tuesday. Japan's government isn't seeking any urgent budgetary support for now, he said.
Stocks worldwide tumbled last week on concern that China's slowdown will jeopardize global growth. Japan's Topix index fell 7.4 percent in August, the biggest monthly loss since May 2012.
Japan's economy is struggling to recover from a contraction in the second quarter as a slowing China -- Japan's biggest trading partner -- weighs on exports and domestic consumption remains weak.
The Bank of Japan's key inflation gauge slumped to zero for the third time this year as energy costs dropped, countering BOJ Governor Haruhiko Kuroda's effort to reflate the world's third-biggest economy.
"Concerns over the global economy are rising, and there's no good news for the BOJ," said Toru Suehiro, an economist at Mizuho Securities Co. in Tokyo. "Chances for additional monetary easing in October have increased considerably as the inflation rate and economic growth have come in weaker than what people expected."
Japan's gross domestic product fell an annualized 1.6 percent in the three months through June, ending two quarters of growth, a government report showed on Aug. 17. Government reports for July show industrial production and household spending unexpectedly declined, while export growth slowed.
Consumer prices excluding fresh food were unchanged in July from a year earlier.
'Not in Deflation'
While Japan isn't in deflation, it's too early to claim victory, Amari said.
Further monetary easing and fiscal steps will be needed if the world's third-biggest economy treads water or contracts in the three months through September, Koichi Hamada, an adviser to Prime Minister Shinzo Abe, said on Aug. 25.
Etsuro Honda, an adviser to the premier, said on Aug. 18 that Japan needs an economic injection of as much as 3.5 trillion yen to shore up consumption and stave off further economic contraction.
Since coming to power in December 2012, Abe's fiscal stimulus and the central bank's monetary easing have weakened the yen and helped push up stocks. The government has also implemented a growth strategy aimed at reducing regulations and stimulating private-sector investment.
Priority Abenomics
In the latest iteration of the strategy unveiled in June, Abe's administration said sustainable economic growth in Japan will depend on increased investment and a "productivity revolution."
The strategy was "disappointing" and gave the impression that Abe's administration lacked impetus to push through deregulation, according to Yuichi Kodama, an economist at Meiji Yasuda Life Insurance Co. in Tokyo.
Kodama said Abe's government needs to more push through structural reforms in areas including the labor market, energy industry and the agricultural sector in order to boost productivity and make the economy more competitive.
Amari said Japan will continue to push through measures to counter the falling birth rate, such as including women and seniors in the workplace. It will also use foreign human resources and boost productivity.
"Pushing through Abenomics and the growth strategy is our top priority," he said.
Before it's here, it's on the Bloomberg Terminal.
LEARN MORE