Don't Count on OPEC Cuts While Iran Plans to Go It Alone
Iran seeks to pump up to 3.9 million barrels a day by March

OPEC continues to produce above 30-million-barrel-a-day quota
Any plan by OPEC to trim oil production to stem falling prices faces a major obstacle: Iran wants its market share back.
Prices fell for a second session Wednesday as doubts mounted over any coordinated response by the Organization of Petroleum Exporting Countries after Iran reiterated its commitment to boosting supply. The Persian Gulf nation will increase output by as much as 1 million barrels a day after sanctions are lifted, Oil Minister Bijan Namdar Zanganeh said in Tehran.
Oil capped the biggest three-day increase in 25 years on Monday amid reaction to a commentary in the group's monthly magazine that said it's ready to talk to other producers to achieve "fair and reasonable prices." The publication included the oft-repeated caveat: The group won't reduce output unless the burden of propping up crude is shared with non-member nations.
"There would have to be pressure from other OPEC members to throttle back Iran's goal," Daniel Hynes, a senior commodity strategist at Australia & New Zealand Banking Group in Sydney, said by phone. "I don't think this signals any shift in strategy, but highlights the ongoing pressure on the group that these lower prices have brought."
While smaller members agitate for an emergency meeting to address the price drop before their next scheduled summit in December, the group continues to pump above its 30 million barrel a day quota, fueling the oversupply that has driven oil lower.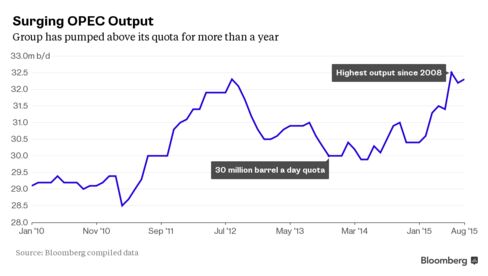 "Immediately after lifting sanctions, it's our right to return to the level of production we historically had," Zanganeh said in an interview. "We have no other choice," he said. Iran plans to produce 3.8 million to 3.9 million barrels of oil a day by March and a price slump won't slow the nation's return to the market, he said.
Any move to scale back OPEC production, and Iran's ambitions, would require support from Saudi Arabia, the group's biggest member. The world's largest exporter led the decision last year to sustain output as prices tumbled, speculating that higher-cost producers would be forced out of the market.
Pushing Ahead
Iran is pushing ahead with its goal to increase market share, with the nation pumping 2.9 million barrels a day in August, the fastest rate in three years, according to a Bloomberg survey of oil companies, producers and analysts. That helped boost OPEC production to 32.3 million barrels a day.
OPEC "has stressed on numerous occasions, it stands ready to talk to all other producers," the organization said in its magazine published Monday on its website. The group "will protect its own interests," it added.
The organization may decide to defend Brent prices at $50 a barrel if demand in emerging economies falters, adding to the strain on members' ability to cover government spending plans, according to Francisco Blanch, head of commodities research at Bank of America Corp.
OPEC is far from united. Algeria's Energy Minister Salah Khebri last month suggested an emergency meeting, an idea that drew supportive comments from Libya and Venezuela. Saudi Arabia gave no public response, while Iraq has said it must increase production to meet the needs of its growing population.
Before it's here, it's on the Bloomberg Terminal.
LEARN MORE