Imax's Paris Champs-Elysees Dream Held Back by Aging Theaters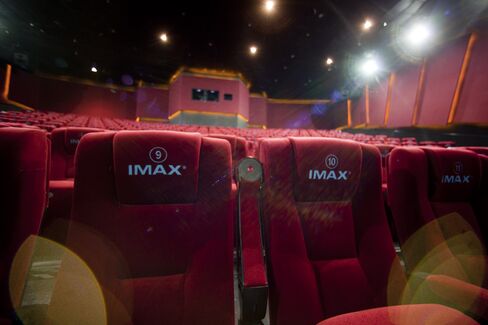 Cinemas in city center aren't big enough for Imax screens

Company is pushing to add locations in French, German markets
The historic beauty of Paris's most famous boulevard is posing a problem for Canadian cinema company Imax Corp.
On the hunt for a new site in central Paris to host glitzy European film premieres, Imax is finding that theaters along the Champs-Elysees, its ideal location, are just too old for its large-format screens, said Andrew Cripps, head of Imax's European, Middle Eastern and African operations.
"We've looked at all of them, and there's just not enough height or enough room to do it properly," Cripps said in a phone interview. "You can't put a small Imax screen on the Champs-Elysees. It has to be something that is a showcase."
Imax, which manufactures large-format movie projection systems and digitally re-masters films for its curved, extra-big screens, reported record second-quarter sales of $107.2 million, fueled by summer blockbusters such as "Jurassic World" and "Furious 7." The Mississauga, Ontario-based company has expanded its European network by about 50 percent in the last three years to 129 commercial theaters, in addition to sites at museums and planetariums that specialize in nature documentaries.
Screens for Imax-format films are set closer to the audience and are more square in shape than standard, rectangular cinema setups. Those for Imax's xenon-light projection technology average 65 feet(20 meters) wide for theaters with 357 seats, while its newest laser-based systems allow for screens of about 120 feet wide with audiences of almost 1,000. Existing theaters along the Champs-Elysees don't offer high enough ceilings, and reconstruction is often blocked because the buildings are under historical protection, Cripps said.
"It's a very complex discussion and it can be very, very expensive," he said. "We continue to talk to people in Paris" about options.
Imax is pushing theater operators to use the laser technology to produce brighter, crisper images, and the first in Europe to deploy the system will be the Empire Leicester Square cinema in London. In the past 18 months, Imax has opened xenon-projection screens in Denmark, Estonia and Azerbaijan and signed deals for theaters in Nigeria, Lebanon and Angola.
France and Germany, where the company currently only has a combined seven commercial screens, are the priority growth markets in Europe. Imax is facing the challenge of restoring its presence in Germany after shutting down a number of documentary cinemas that weren't converted to digital projection, Cripps said. There are "plenty of active conversations going on in France" for further locations, the executive said, and he's confident of opening a number of theaters there in the next year, even without a central-Paris site.
(Corrects size of laser-projection screens in fifth paragraph of article published Sept. 1.)
Before it's here, it's on the Bloomberg Terminal.
LEARN MORE