Hedge Fund Anchorage Boosts Stake in Irish Phone Carrier Eircom
Eircom unlikely to hold IPO in current fiscal year, CEO says

Company forecasts low-single-digit earnings growth this year
Anchorage Capital Group LLC, a New York-based hedge fund, has built up a stake of almost 40 percent stake in Eircom Group, the Irish phone company that has gone through six ownership changes since 1999.
As recent as a year ago, Anchorage had an 8 percent holding in Eircom and this year it was said to have acquired a stake of about 25 percent from Blackstone Group LP. Eircom's largest shareholder is approaching 40 percent and is "very supportive" of its strategy of focusing on delivering sustainable sales and earnings growth before potentially returning to the equity markets, Chief Executive Officer Richard Moat said in a phone interview.
Eircom reported Tuesday that sales in its fourth quarter through June 30 rose for the first time in seven years. The carrier was taken over by senior lenders, led by Blackstone, in 2012 as its debt was restructured under court protection from bankruptcy. Eircom's borrowings had soared to more than 4 billion euros ($4.5 billion) amid a series of stock market listings and takeovers over 13 years.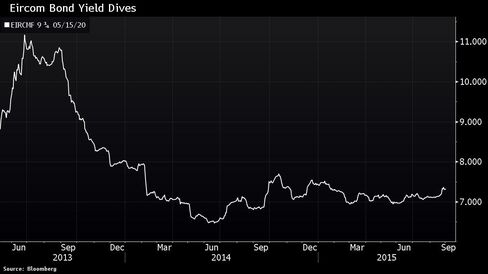 After pulling a plan to sell shares on the stock market again last year, Eircom said in May it turned down an offer of as much as 3.3 billion euros from an unidentified bidder because the price was too low. Moat declined to identify the party behind the approach.
"There's no plan at the moment to go to the market and nobody is talking to us about a potential acquisition," he said, adding that it is "highly unlikely" Eircom will attempt another IPO in its current financial year.
Eircom is forecasting a low single-digit percent in earnings growth this year, after earnings rose 3 percent last year to 481 million euros excluding interest, taxes, depreciation and amortization, Moat said. The company "hopes" to deliver full-year sales growth, the CEO said. Sales rose 5 percent in the final quarter, its first year-on-year increase in seven years, it said on Tuesday.
Before it's here, it's on the Bloomberg Terminal.
LEARN MORE