Guatemala's President Loses Immunity in Bribery Scandal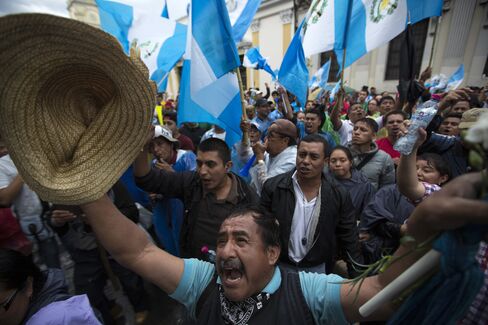 President Perez Molina could face arrest for accepting bribes

Scandal comes as Guatemala prepares for elections on Sunday
Guatemala's Congress voted unanimously to strip President Otto Perez Molina, accused by the attorney general of taking bribes, of immunity from prosecution. Prosecutors can now petition the criminal courts to seek his arrest.
While legislators needed 105 votes to approve the measure, all 132 members who were present supported it. Another 26 lawmakers were absent. Outside the congressional building in Guatemala City, demonstrators supporting the decision blew whistles, banged drums and waved flags.
Perez Molina, a former general who helped end a civil war in the 1990s, has come under increasing pressure to quit as a series of corruption allegations forced him to fire or accept the resignation of his closest aides and ministers. About 70,000 people turned out at a rally last week calling on him to step down, even as the country prepares to pick his successor in elections on Sept. 6.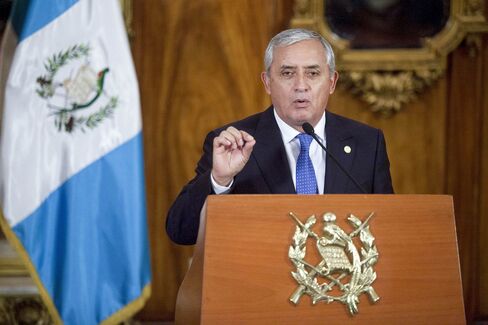 "We have to accept we live in a collapsed state," opposition lawmaker Roberto Alejos said after the vote. "This isn't a game. We need to approve laws that allow us to be elected in a different way to avoid these sad and unnecessary moments for the country."
In a national address Monday, Perez Molina, whose term ends in January, rejected the accusations and said he didn't "receive a cent" in the customs tax scandal. Former Vice President Roxana Baldetti is in jail after prosecutors said she received bribes in the same case. She has said she is innocent.
Attorney General Thelma Aldana, in an interview Tuesday with CNN's Spanish-language channel, said the president is not permitted to leave the country. On Wednesday morning she said prosecutors will ask courts to dismiss Perez Molina as president.
Presidential spokesman Jorge Ortega said on on Wednesday that "for the time being" the president has not resigned and will make court appearances if he is summoned. "He made the decision to face due process," Ortega said. "Everything that is happening is atypical. We have to see how this develops."
Perez Molina will likely have to step down, Risa Grais-Targow, an analyst at the Eurasia Group, wrote in a report Wednesday, adding that such a move would have a "limited impact on policy or political stability."
Investors have largely shrugged off the scandal as the elections, in which Perez Molina isn't eligible to run, near. The yield on the country's dollar bonds due in 2022 declined 10 basis points, or 0.1 percentage point, to 4.92 percent through Tuesday.
"Investors already realize that Guatemala is pretty challenging environment," said Gavin Strong, a Central America analyst at Control Risks in Mexico City. "I wouldn't say that companies are particularly concerned by this so-called political crisis."
Before it's here, it's on the Bloomberg Terminal.
LEARN MORE