Geneva Lake Views Aren't Enough as Swiss Play Russian Roulette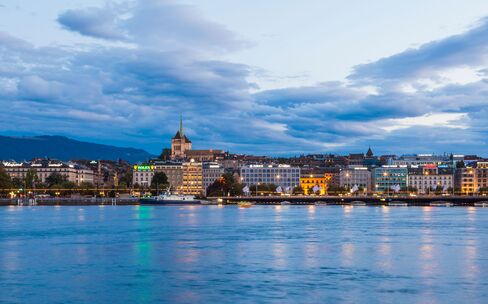 Multinationals deterred by franc strength, cap on EU migrants

New corporate tax regime must be implemented by 2019
Geneva's days of luring blue-chip multinationals with little more than a postcard of its iconic lake and the promise of a low-ball tax rate are gone.
The city with the world's highest density of millionaires is feeling the pinch as its budget deficit balloons and the stronger Swiss franc pushes companies to reconsider Geneva as their European headquarters. With the European Union forcing Switzerland to scrap preferential tax rates for foreign firms and a popular vote passing measures to limit immigration, the French-speaking canton is scrambling for a response.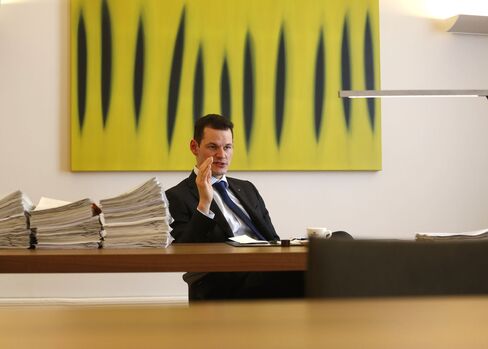 "I haven't seen any big companies settling in Geneva in the last two years and there are good reasons for that," said Thierry Boitelle, a tax lawyer at Bonnard Lawson, which helps foreign firms relocate to the city. "Multinationals are not in a relocation mood at the moment and Switzerland is not at the top of their list."
The local government is having to up its game. Four years after the canton said it was running out of room for hedge funds, following the arrival of Brevan Howard and Bluecrest Capital Management from London, Geneva last week announced its first ever strategic economic plan. Pierre Maudet, who as economy minister woos companies from Dubai to Japan, said the canton needs to overcome "uncertainty and unpredictability" to stay prosperous.
The political and economic stability that forms the cornerstone of Switzerland's appeal, and helped persuade 130 multinationals from Procter & Gamble Co. to Expedia Inc. make Geneva their European headquarters, is being undermined by the vote on immigration and the franc strength, said Stephane Garelli, a professor at Lausanne's IMD business school.
Immigration Vote
On Jan. 15, the Swiss central bank surprised investors by scrapping its currency cap with the euro, boosting the franc by 21 percent against the euro. That came 11 months after the Swiss electorate backed a motion to "Stop Mass Immigration," which will require the government to introduce quotas for immigrants from EU countries. Switzerland's system of direct democracy, which produces referendums on issues that cut to the heart of the business environment, such as executive pay, is making the country less predictable, Garelli said.
"Do we play Russian roulette three times a year?" said Garelli. "What people want when they invest somewhere is to make sure that the rules of the game are going to be stable during the next few years."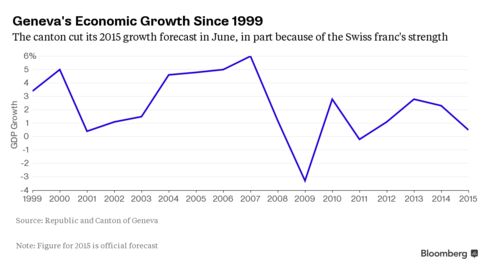 On tax reform, Geneva is lagging behind the neighboring canton of Vaud, which has already proposed implementing a new corporate rate of 13.8 percent to comply with EU objections to Switzerland's existing system that offers preferential deals to overseas companies.
Geneva will have to cut its headline corporate tax rate from 24 percent to maintain the canton's appeal for foreign companies used to paying half that, according to Boitelle. That will increase the hole in Geneva's finances as the canton last week said it expects a 2015 budget deficit of 200 million francs ($207 million).
"If the rate doesn't come down to 13 percent, I think we're going to see an exodus of companies," he said. "The stakes are really high."
Tax Rate
Accelerating the tax reform process is crucial to giving companies the certainty they need to set up in Geneva, said Martin Naville, chief executive officer of the Swiss-American Chamber of Commerce.
"A question that everyone has been asking themselves is: is Switzerland still business-friendly?" Naville said by phone. "There's been a massive increase in working out a plan B because of those question marks."
Still, the uncertainty over tax and strength of the franc isn't deterring everyone. Thirty-five foreign companies set up in the canton in 2014, including Santen Pharmaceutical Co., a Japanese maker of treatments for eye disease.
While that was up from 30 companies in 2013, last year's arrivals only created 170 jobs, compared with about 2,800 at the canton's biggest multinational employer, P&G. The newcomers employ mainly executives as they take advantage of Geneva's ability to lure the best managers and the canton's existing offer of preferential tax rates for foreign firms.
Club Sandwich
Tax played a part in Santen's decision, according to Shigeo Taniuchi, the company's European head, but the diversity of talent in Geneva was more important as the company seeks to expand sales outside Japan to as much as 50 percent of its total by 2020 from 18 percent last year.
The strength of the franc, which helped make the city the fifth-most expensive for expatriates in Mercer's 2015 cost of living rankings, didn't deter Taniuchi, who said he's sidestepped Geneva's notorious $30.59 club sandwich, the world's most expensive.
"Geneva is expensive, but headquarters must be small and efficient," Akira Kurokawa, Santen's chief executive officer, said in an interview at the company's new office in the city. "Of course there's beautiful scenery here and nice wine, but we're here to do business, not look at the scenery."
For Santen, opening a new office for 15 people on Wednesday, it's more about attracting the right executives than the financial costs, said Taniuchi, who made the case for Geneva to Kurokawa over dinner on the terrace of the Grand Hotel Kempinski, which offers views across the lake toward Mont Blanc.
"We explained to him why it's important and attractive for us, by showing the talent pool, geographical location, cultural fit," Taniuchi said. "It's a nice city, I really like it. I ski all the winter time. That's a basic component for the attractiveness and brand of Geneva."
Before it's here, it's on the Bloomberg Terminal.
LEARN MORE