Dairy-Price Jump on Lower Volumes Fails to Ease Demand Concerns
``All eyes remain on China to provide more demand'': ANZ

Westpac hesistant to predict further substantial price gains
The second straight jump in dairy auction prices on lower volumes has done little to ease concerns about weak demand.
Whole milk powder prices surged 12.1 percent in a GlobalDairyTrade's latest auction after a 19.1 percent gain two weeks ago. Fonterra Cooperative Group, the world's largest dairy exporter, said Aug. 13 it would reduce the amount of powder it offers at auction by 10 percent over the next 12 months as New Zealand farmers trim production.
"It will take more than concerns over supply to provide meaningful lifts in commodity prices; demand will also need to come to the party," Mark Smith, senior economist at ANZ Bank New Zealand in Auckland, wrote in an e-mailed research note Wednesday. "All eyes remain on China to provide more demand-side spine. But recent equity market volatility and the soft data pulse are not good signs."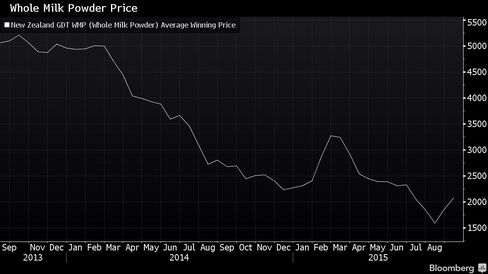 Demand for dairy products, New Zealand's biggest export, may take some time to fully recover as the economic slowdown in China spooks commodity markets. Prices have plunged on a global milk glut and waning Chinese demand, prompting Fonterra to slash its forecast payment to New Zealand farmers and offer them interest-free loans to cushion reduced incomes.
The average whole milk powder price rose to $2,078 a metric ton, up from a seven-year low of $1,590 on Aug. 4. That's still less than half the $5,245 peak reached in 2013 and below the $2,200 Smith estimates is needed for Fonterra to meet its forecast farmer payment of NZ$3.85 ($2.44) per kilogram of milksolids for this season.
While overall dairy prices rose 10.9 percent, volumes offered at the fortnightly auction amounted to 35,865 metric tons, down from 57,010 tons this time last year.
"We're hesitant about assuming further substantial price gains in coming auctions," said Michael Gordon, senior economist at Westpac Banking Corp. in Auckland. "The global dairy market has so far reacted strongly to Fonterra's forecast of a 1.5 percent drop in milk collection for this season. But for higher prices to be sustained, dairy farmers will have to live up to that forecast over the coming months."
Before it's here, it's on the Bloomberg Terminal.
LEARN MORE