China continues to dictate the mood of markets. On Tuesday, Asian and European stocks resumed where they left off in August after China's official factory gauge fell to a three-year low. The report suggests the world's second largest economy has yet to find a bottom.
Last month, $5.7 trillion was wiped off the value of global equities after China devalued the yuan. The move prompted a 12% slide in the nation's stocks, capping the worst two months since 2008. The S&P 500 Index sank 6%, the biggest monthly drop since May 2012. Europe's Stoxx 600 plunged 8.5%, the worst month in four years.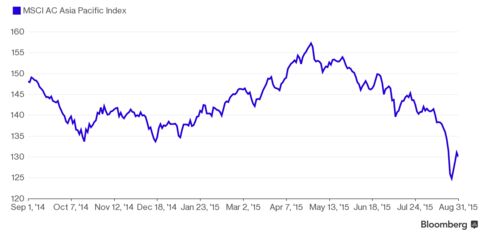 On Tuesday, Asian stocks took their cue from China. The Shanghai Composite closed 1.2% lower, having dropped as much as 4.75% after the disappointing manufacturing report. It's believed state-backed funds are using afternoon share purchases to boost the market before this week's World War II victory parade. The MSCI Asia Pacific Index dropped over 2% after an 8.5% sell-off in August, the biggest in three years. That's $940 billion of lost value.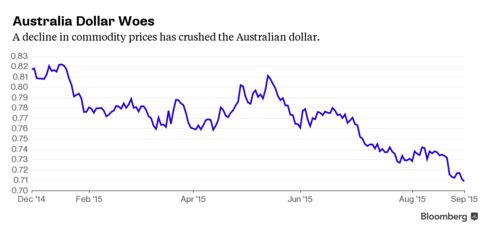 Australia's dollar dropped to its lowest since April 2009 after the nation's central bank left interest rates unchanged, as expected, at a record-low 2%. The falling currency is cushioning the impact of lower commodity prices and a deteriorating economy in China, its key trading partner. Traders are pricing in a 50-50 probability of another rate cut by November as Australia struggles to cope with slumping prices for key resource exports. In August the Australian dollar fell 2.7% against the greenback ahead of a likely rise in U.S. interest rates in coming months.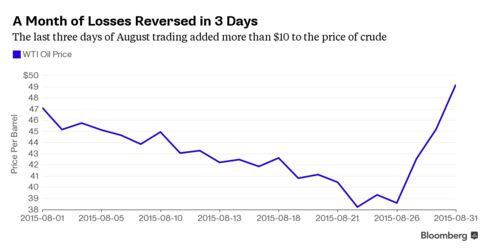 Oil fell after the biggest three day jump in 25 years. The 27% move wiped out all of August's losses and left crude at its highest since July 21st. The monthly gain was the first since May as concerns eased over a slowdown in the U.S. and amid signs the global glut may diminish. Investors are now looking ahead to Wednesday's report on U.S. stockpiles, which may show a 700,000 barrel increase in inventories. Crude is still 22% below June's high and has sunk almost 50% in the past 12 months.
Mark Barton is a presenter on Bloomberg TV. Follow him on Twitter @markbartontv
Before it's here, it's on the Bloomberg Terminal.
LEARN MORE