BofA Says its Clients Bought a Record Amount of Stocks Last Week
There was "buying across the board"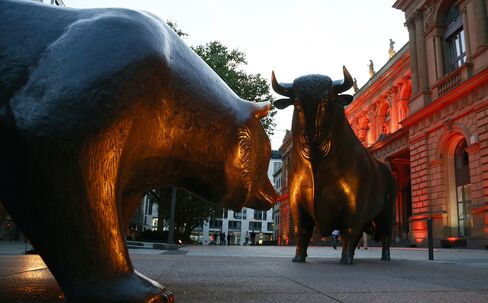 Last week began with a very bad day for equity markets, but some (brave) investors decided all that turmoil was a good chance to buy.

According to Bank of America Merrill Lynch flow data, its clients were net buyers of $5.6 billion in U.S. equities last week, a record dating back to when the survey began in 2008. This comes after five straight weeks of selling, or more outflows than inflows.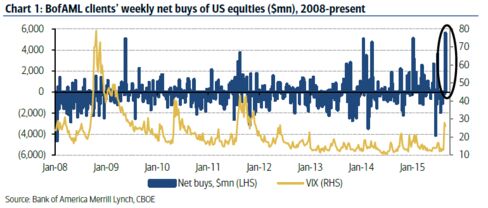 It wasn't just a certain type of investor taking the leap of faith: Buying was across the board, with hedge funds, private clients, and institutional clients all net buyers. In year-to-date terms, the inflows pushed private client flows into positive territory for the year, while institutional and hedge fund clients are still cumulative net sellers.
In terms of which sectors saw the the biggest inflows, BofAML's Jill Carey Hall, lead analyst on the note, said the consumer discretionary and technology sectors were the biggest winners, while industrials and materials experienced minor outflows. Materials, in particular, have been hurt because of higher sensitivity to developments in China.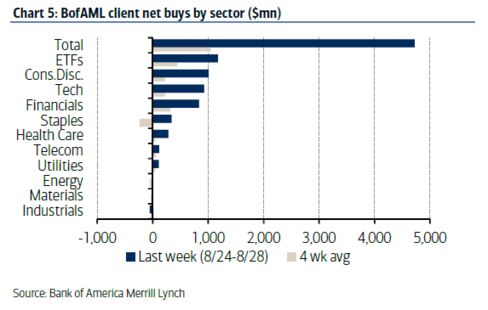 A Bloomberg report issued last week first pointed out that some investors were sensing a bottom in the market and taking the chance to "buy the dip," pouring more than $5 billion into the largest stock exchange traded fund on Wednesday, for instance.
With stocks down again on Tuesday, the question is whether these big investors will step into the breach once more.
Before it's here, it's on the Bloomberg Terminal.
LEARN MORE