Alexion CEO Says FDA's Strensiq Decision Due in Matter of Weeks
Treatment for ultra-rare bone disease approved in Europe

Drugmaker looking to expand beyond blockbuster Soliris
Alexion Pharmaceuticals Inc. said U.S. regulators are likely to decide in the next few weeks whether to approve Strensiq, its therapy for a rare genetic bone disease, after intensive discussions about the information included on the product's label.
Approval by the Food and Drug Administration had been expected around Aug. 30, according to Bloomberg Intelligence. Chief Executive Officer David Hallal said Alexion has pushed for longer-term data about Strensiq's effectiveness to be included on the label, which could give doctors more confidence in the drug. The treatment was approved Tuesday by European regulators.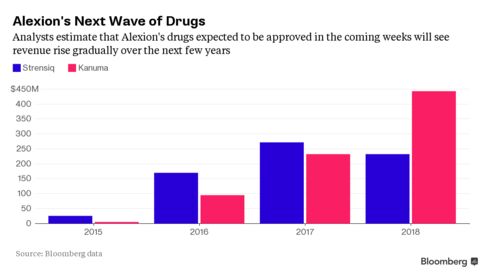 "We're not in the business of just racking up approvals, and we want to have a label that allows us to be able to reach and serve as many patients as possible," Hallal said in an interview Tuesday. "We expect to be launching here in the second half of the year so I'm looking at it in terms of weeks, not months," he said, referring to U.S. regulatory approval.
Alexion, based in Cheshire, Connecticut, is looking to expand sales beyond its flagship drug Soliris. In May the company agreed to buy Synageva BioPharm Corp. for $8.4 billion, a premium of more than 120 percent, for a drug to treat the organ-damaging condition called LAL deficiency. That drug, Kanuma, was also approved in Europe on Tuesday, and the FDA is slated to rule on it by next week.
Strensiq treats patients with hypophosphatasia, a disease that can kill infants and cause skeletal abnormalities, affecting fewer than 20 out of 1 million people. The drug is projected to reach annual sales of as much as $355 million by 2018, according to analysts' estimates compiled by Bloomberg.
Before it's here, it's on the Bloomberg Terminal.
LEARN MORE