The Hedge That Wasn't: How $150 Billion of Mystery Bonds Flailed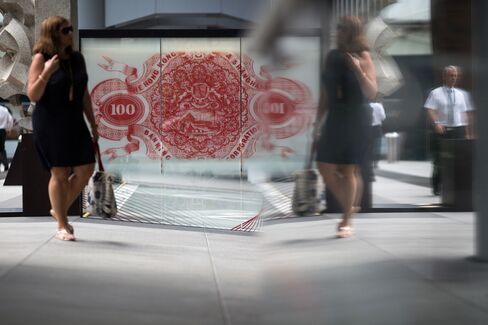 When something sounds too good to be true, it usually is, as investors in nontraditional bond funds are finding out.
These so-called go-anywhere funds, which typically give managers free rein and have racked up about $150 billion under management, promised safety amid turmoil but have mostly failed to deliver, prompting investors to pull their money out.
The funds, which exploded in the face of growing fears of rising interest rates in 2013, have lost 0.7 percent in the past month and 1.4 percent in the past year, according to Morningstar Inc. data. As for plain-vanilla U.S. government bonds? They eked out a 0.2 percent gain during this rocky August, while stocks globally plunged 5.9 percent.
Call it the curse of complexity. As central bankers from China to the U.S. wield unprecedented influence over all markets, balancing investments perfectly across asset classes is becoming exceedingly difficult.
Perhaps it's also evidence that investors need to identify their single biggest fear and then hedge against it.
"These funds were more designed to protect people against interest-rate risk," said Sarah Bush, a fixed-income fund analyst at Morningstar. To do that, she said, "A lot of these have taken a fair amount of credit and emerging-markets risk."
Investors had begun souring on these nontraditional funds even before this month, when China sent equities worldwide on a roller coaster after devaluing its currency. They pulled $3.9 billion from them in the first seven months of the year, Morningstar data show.
While a few nontraditional funds managed to avoid losses in August, most didn't. Bill Gross's Janus Global Unconstrained Bond Fund declined 3.4 percent, while the Fortress Long-Short Credit Fund lost 2 percent. Legg Mason BW Absolute Return Opportunities Fund dropped 2.3 percent, according to data compiled by Bloomberg.
In the period, high-yield bonds globally lost 1.8 percent and dollar-denominated emerging-markets debt declined 1.3 percent, Bank of America Merrill Lynch index data show.
In the meantime, the Federal Reserve still hasn't raised benchmark borrowing costs from about zero, where they've been since 2008, and government bonds have performed fairly well in 2015, especially considering their already low yields to start.
Perhaps when benchmark yields actually start to rise, these funds will regain their star power among investors. In the meantime, they're looking a lot less appealing as a hedge against every imagined risk.
Before it's here, it's on the Bloomberg Terminal.
LEARN MORE