September's Live, Then Delayed, Live Again in the Bond Market
Ten-year yields fall by most in one week as equities decline

Fischer keeps door open to Fed rate increase in September
Treasuries rose for a second day as investors sought safety from renewed stock-market declines linked to concern China's economy is slowing.
The benchmark 10-year yield fell the most in a week as stocks dropped in China and around the globe amid speculation the world's second-largest economy is cooling. China's Aug. 11 currency devaluation sent global investors scrambling for the safety of U.S. government debt. Global stocks remain on track for their biggest monthly slump in three years.
"Risk levels need to be pared, and that's going to be a driving factor," said Guy Haselmann, director of capital-market strategy in New York at Bank of Nova Scotia, one of 22 primary dealers that trade with the Federal Reserve. "A rate hike is colliding with a Chinese economic slowdown, and the marketplace has been a little too complacent."
The 10-year yield fell two basis points, or 0.02 percentage point, to 2.16 percent as of 11:11 a.m. New York time, according to Bloomberg Bond Trader data.
Market Forces
Treasuries have benefited from China's slump as investors have sent cash into the $5.5 billion iShares 20+ Treasury Bond ETF for three weeks straight, to the tune of $662 million. On Monday, long-term Treasury prices were also supported by investors buying securities to match changes in the duration of bond indices, according to strategists with CRT Capital LLC.
The Bloomberg U.S. Treasury Index was on pace for a monthly gain of 0.1 percent as of Aug. 28. It is up 1 percent for the year.
Short-term Treasuries underperformed. That was driven by a rise in the view that a September rate increase is still a possibility, as indicated by interviews with Federal Reserve officials during the Kansas City Fed's annual retreat in Jackson Hole, Wyoming. Two-year yields, among the most sensitive to what the central bank does with its rate target, remained poised for their fifth-straight monthly climb. The last time they advanced for that long was in 2006, which was also the last time the Fed increased rates.
Traders had been betting on a September move until about two weeks ago, when the selloff in Chinese shares raised speculation the rout would make the Fed hold off. The odds of a shift next month have climbed after Fed Vice Chairman Stanley Fischer indicated policy makers are open to increasing borrowing costs next month.
Futures contracts indicate there's a 38 percent chance of a Fed shift in September, up from 24 percent as recently as Aug. 26, and 60 percent odds of an increase by year-end, according to data compiled by Bloomberg. The figures are based on the assumption that the benchmark will average 0.375 percent after the first increase. The Fed's target for its benchmark now is a range of zero to 0.25 percent.
"It is clear that the Fed would like to hike," said Hiroki Shimazu, the senior market economist in Tokyo at SMBC Nikko Securities Inc., a unit of Japan's second-largest bank. "September is most likely. The U.S. economy is really strong."
U.S. two-year yields slipped about one basis point to 0.71 percent. The yield has climbed from 0.56 percent at the end of March.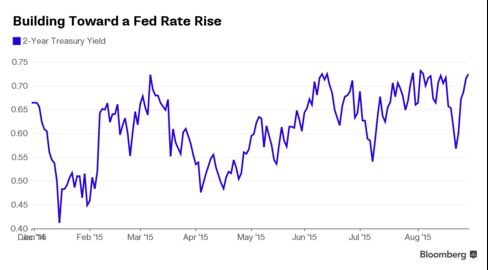 Before it's here, it's on the Bloomberg Terminal.
LEARN MORE