Molycorp Said to Draw Interest From Buyers for Assets Abroad
Companies in China, Japan said to be interested in assets

Interest in Molycorp non-U.S. plants said to be unsolicited
Rare-earths producers from China and Japan have approached Molycorp Inc. about buying some of the bankrupt miner's non-U.S. assets, according to two people with knowledge of the matter.
The facilities include plants in various parts of Asia. They produce and process metals, including neodymium, which is used in making magnets for electric cars and wind turbines, said the people, who asked not to be named because the offers have not been made public.
The development comes two months after the bankruptcy filing by the largest U.S. producer of rare-earths -- a group of 17 obscure elements used in technology from smart-phones to missiles and military aircraft. Selling the international assets would further reduce Molycorp's rare-earths market share. The company, which is in the process of mapping out a reorganization, also announced last week it will shut its Mountain Pass facility in California by October.
Selling these assets won't be the miner's priority as it focuses on restructuring its business, said one of the people. The deal also would require approval from Oaktree Capital Group LLC, Molycorp's rescue lender that extended a $400 million loan last year, because the credit line is secured by the assets, the people said. Such a sale of non-U.S. assets also isn't likely to trigger a review by the Committee on Foreign Investment in the U.S., which examines acquisitions by overseas buyers to mitigate national security risks, the people said. The committee only has jurisdiction over the sale of U.S. businesses.
Chinese Exports
Jim Sims, a spokesman at Molycorp, and Carissa Felger, a spokeswoman for Oaktree at Sard Verbinnen & Co., declined to comment.
Baotou Iron & Steel Group Co. of Inner Mongolia and Aluminum Corp. of China Ltd. are among the biggest rare-earths producers in China, which controls about 95 percent of the world rare-earths supply. Japan, one of the world's largest importers of rare-earths, has also been looking for ways to reduce its dependence on China's resources.
An official at Baotou Iron & Steel said she wasn't aware of any talks. Two calls to press officials at Aluminum Corp. went unanswered.
In May 2011, Molycorp's market value rocketed to $6.4 billion as China moved to restrict exports of the minerals. The ban was lifted last year and rare-earths prices began to tank as supply from China ballooned. Chinese exports of the minerals last month doubled from a year earlier and reached their highest level in more than four years, according to government data.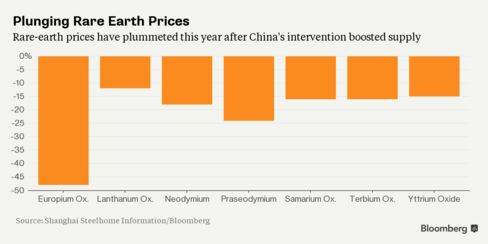 Greenwood Village, Colorado-based Molycorp suffered from the dropping commodities prices as well as operational glitches from the Mountain Pass mine. The company also doubled down on the business near the minerals' price peak, buying Neo Material Technologies Inc., a Canadian metals processor for $1.2 billion in 2012.
Molycorp's $650 million of 10 percent first-lien notes maturing in June 2020 traded at 15.88 cents on the dollar on July 22, dropping from 54.5 cents at the beginning of the year, according to Trace, the bond-price reporting system of the Financial Industry Regulatory Authority.
The case is In re Molycorp Inc., 15-bk-11357, U.S. Bankruptcy Court, District of Delaware (Wilmington).
Before it's here, it's on the Bloomberg Terminal.
LEARN MORE