ModCloth's first brick-and-mortar shop, near San Francisco's Union Square, is filled with the whimsical tops and dresses shoppers have come to expect from the 13-year-old website. The clothes inside the "fit shop" are meant to be tried on and then ordered to customers' homes, while the accessories and one-of-a-kind vintage gear can be bought on the spot and taken home. Although the location is temporary, it's a sign of things to come. "It's an incubator, so to speak, of what we think the future of ModCloth stores will be," says Chief Executive Officer Matt Kaness, who's planning a large expansion at the retailer after taking the top job in January.
Kaness is pushing physical stores, new ModCloth-branded label lines, and more growth internationally. ModCloth raked in more than $150 million in revenue in 2014, up from about $100 million in 2012, and has achieved profitability over each of the past four quarters, according to Kaness. "It's not hard for me to see how we can double the business from here," he says. "And then doubling it again becomes a different exercise, but one that I hope and expect to be talking about."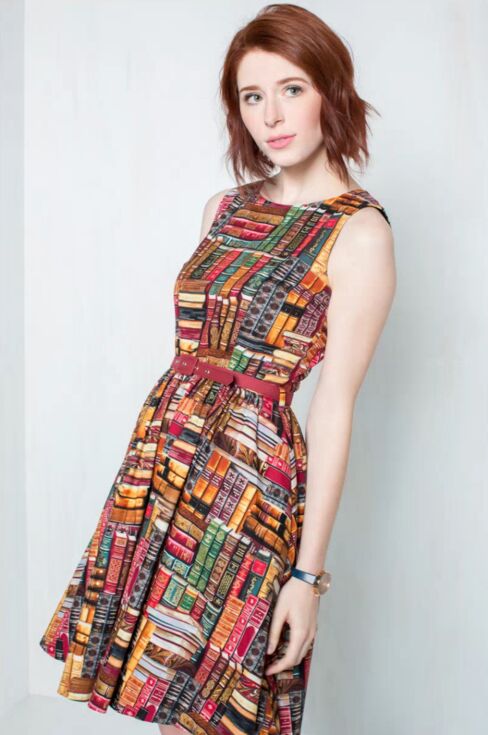 ModCloth sells clothes both retro and quirky, from print ponchos to vibrant dresses. The business was started by Eric and Susan Koger in a Carnegie Mellon University dorm room in 2002 while they were dating; Susan took care of the fashion, harvesting vintage items to sell, while Eric managed the tech side. ModCloth positioned itself as a wholly inclusive label that touts positive body image, vowing never to retouch women with Photoshop, offering an extensive plus-size assortment, and using models with different body types. The company has managed to amass a devoted fan base.
ModCloth, however, had a bumpy year in 2014. Sales growth reportedly wavered, and two rounds of layoffs culled more than 100 jobs, around 20 percent of the retailer's workforce at the time. Eric Koger later told employees in a memo that "we're going to learn from the mistakes of 2014 and put them behind us as quickly as possible." The couple handed the CEO role over to Kaness, previously chief strategy officer at Urban Outfitters, and said they "always knew the time would come" when they'd have to turn to a retail veteran.
Under Kaness, ModCloth is looking to expand a bunch of product lines, such as intimates, bridal, athletic wear, accessories, and home goods. The company already ships to more than 50 countries and has footholds in Australia, Canada, the U.K., and Hong Kong. Kaness points to Japan, Germany, and South Korea as markets in which ModCloth could also thrive. The company also created its first private-label apparel line and is in talks with potential retail partners. Kaness isn't sure if he'll end up using traditional wholesaling to sell ModCloth-branded clothes in department stores or boutiques, or sell the label at other online apparel shops.
Assuming continued success at the West Coast shop (ModCloth has already extended the location's lease once), expect many more stores to come. "The aspiration is that ModCloth will have a number of permanent fit shop locations nationally," Kaness says. "We just want to get it right before we start running down a path."
In the long term, the clothing seller is considering adding entirely newly branded websites using the company's e-commerce technology. ModCloth largely targets women in their 20s and 30s, says Kaness. He hopes at some point to add new, separate brands that can go beyond those demographics.
Then there's the matter of ModCloth one day going public, or seeking a buyer. Eric Koger said in 2013 that ModCloth will "deliver liquidity to [investors] eventually," but the company didn't yet have a specific timeline for an IPO or acquisition. ModCloth has raised $78.7 million in funding since its launch, most recently with a $15 million round in June. Investors include Accel Partners, Norwest Venture Partners, and First Round Capital.
Kaness doesn't have an update on that timeline, saying he's focused on expanding the company. "To me, liquidity is an outcome, not a goal," he says.
Before it's here, it's on the Bloomberg Terminal.
LEARN MORE