Man Group's China Chief Said to Assist Police in Probe
China authorities have imposed trading limits amid rout

Li was previously managing director of MTV Networks in China
Chinese authorities took Li Yifei, chairwoman of hedge fund Man Group Plc's China unit, into custody to assist with a police probe into market volatility, according to a person familiar with the matter.
Li assisting with the investigation doesn't mean she is facing charges or did anything wrong. She has led the China business of Man Group, the world's largest publicly traded hedge fund, since November 2011, according to her profile on LinkedIn. The person asked not to be identified because the probe isn't public.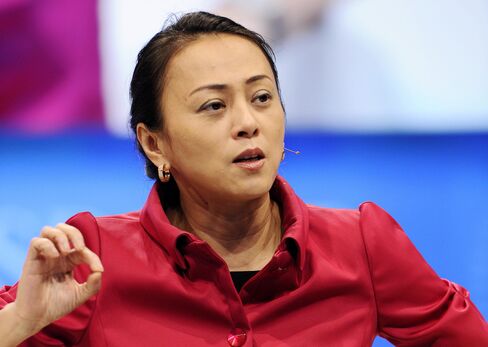 Li's mobile phone was turned off when called on Monday. Chaoyong Wang, Li's husband, said in a telephone interview that she is in a meeting with "relevant industry authorities" and he doesn't know who they are. He said he spoke to her by telephone yesterday and today, expects her back home soon but does not know when.
A call to China's Ministry of Public Security rang unanswered. Rosanna Konarzewski, head of communications for Man Group, declined to comment.
Chinese authorities have imposed limits on wagering against stocks, known as short selling, amid a rout in equity markets. The campaign against market manipulation has snared senior executives at Citic Securities Co., China's largest brokerage, as well as a journalist at business magazine Caijing.
'Malicious' Selling
As the Shanghai Composite Index has slumped about 38 percent since a selloff began in June, authorities in China have repeatedly blamed market manipulators and foreign forces for the rout. In July, the Ministry of Public Security said it would help the China Securities Regulatory Commission investigate evidence of "malicious" short selling of stocks and indexes.
"They're sending out even stronger signal that people in China cannot short sell the market, or even long sell the market," said Steven Leung, an executive director at UOB Kay Hian Ltd. in Hong Kong. "The signal is not good for the future development of China's securities market."
A resident of Beijing, Li was previously a managing director at the China unit of hedge fund GLG Partners, according to a biography posted on the Rockefeller Foundation's website, where she is a trustee. GLG was acquired by Man Group in 2010. Before that, Li was managing director of MTV Networks in China, and also worked as chief representative at Viacom Inc.'s China arm, according to her LinkedIn profile.
Martial Arts Champion
In May 2001, Li was selected as one of 25 Rising Stars-Global Leaders for the Next Generation by Fortune, and for four consecutive years she was one of Fortune's 50 Most Powerful Women. Li was also a national champion in Chinese Martial Arts, according to her Rockefeller Foundation biography.
Man Group managed $78.8 billion as of June 30, according to an earnings report in July. The firm is listed in London, where markets are closed Monday for a public holiday.
China Funds
The Asia-Pacific region accounted for almost a fifth of Man Group's funds under management in the first half of 2015, according to the report. Man Group in February announced that it secured an investment from institutions including Citic Group Corp. for its Qualified Domestic Limited Partner program in China, which allows qualified Chinese high net worth individuals and institutional investors to invest in hedge funds overseas.
In an interview with Bloomberg Television's Stephen Engle in November, Li said investors and regulators in China were starting to understand hedge funds.
"The Chinese investors and regulators are beginning to understand that actually hedge fund is about hedging," Li said at the time. "It's hedging against the risk. And we're trying to provide products that are actually less risky with less volatility and stable return."
Li also said at the time that asset managers investing under the so-called QFII and RQFII programs for foreign investors are restricted from shorting onshore stocks, unlike local funds.
"So there's still a lot of deregulation that's going to take place on the horizon, and we hope with those changes that foreign funds coming into China are treated equally as local money," she said. "Then I think the opportunities of more funding coming into China will really happen."
— With assistance by Nick Wadhams
Before it's here, it's on the Bloomberg Terminal.
LEARN MORE