Korea Chaebol Rearguard Action Seen Ruining Stocks by Rothschild
Foreigners sold most Korean shares last week since 2013

Activist shareholders thwarted in battles against chaebol
South Korea's chaebol, the powerhouses that helped return prosperity to the nation after the civil war, are now being cast by investors as the bane of its stock market.
Opaque ownership structures, put in place as owners of the biggest family-run corporates battle each other and minority shareholders for control, are hampering profits, said David Gaud, a fund manager at Edmond de Rothschild Asset Management. Sam Le Cornu, Macquarie Asset Management's manager, said his strategy of choosing more transparent smaller companies is helping his regional fund beat 96 percent of its peers this year.
A family feud for control of the Lotte Group retail empire further soured sentiment last month, after billionaire activist Paul Elliott Singer failed to stop Samsung Group's founding members from tightening their grip over the nation's largest conglomerate. Corporate governance concerns combined with a slumping won and plunging Chinese shares to fuel a 4.4 percent drop in the Kospi index in August as foreigners sold$1.9 billion more Korean equities than they bought last week, the most in two years.
"We have this long-term view on Korea which is getting less and less competitive," said Hong Kong-based Gaud, who allocates less funds to Korean equities than recommended by his benchmark index. "I don't see a recovery in Korean shares until there's structural reform among big chaebols."
Foreigners Sell
The Kospi Large Cap Index slid 4.4 percent this year through Monday as Samsung Electronics Co. tumbled 18 percent. The maker of the Galaxy handset was Korea's most sold stock by foreigners, who dumped 1.1 trillion won ($930 million) since June 30, followed by SK Hynix Inc. and Samsung C&T Corp. The Kospi Small Cap Index jumped 25 percent this year.
The foreign selling accelerated as Elliott, who called the merger between Samsung C&T and Cheil Industries Co. "unfair and unlawful" on Aug. 6, sold his stakes in the former last month after losing its battle with founding members. Lotte Shopping Co., a listed retail chain of the Lotte Group, plunged to its lowest level since 2009 last month as earnings tumbled amid public fights between the group's two brothers over management control.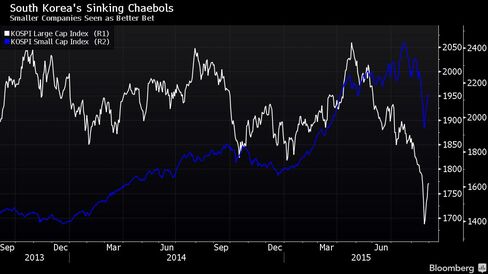 The "unpredictability and uncertainty on how this generation-to-generation succession will affect businesses" is a risk deterring investments by local fund managers as well as foreigners, according to Heo Pil Seok, Seoul-based chief executive officer at Midas International Asset Management Ltd.
"That's the Korea discount," said Heo, whose Midas Miso Mid & Small Securities Investment Trust fund returned 30 percent in the past year, the best performer among 142 local funds tracked by Bloomberg. "When we're bracing for more emerging-market outflows ahead of higher U.S. interest rates, big companies with corporate governance issues have an additional reason to sell."
Japanese Rivals
The Korean currency fell to 1,198.93 versus the dollar on Aug. 24, the lowest level since July, 2010, and closed Monday at 1,182.90, heading for a fifth quarterly loss as foreign investors dumped the nation's assets. Global investors cut holdings of won-denominated bonds, selling a net 2.6 trillion won in July, the biggest outflow since December 2011, regulator data showed.
Rothschild, which oversees about $170 billion, sees bigger Korean companies struggling in the face of a revival of Japanese rivals in global markets, Gaud said. Toyota Motor Corp. reported net income for the April-to-June quarter jumped to $5.2 billion, topping analyst estimates, while Hyundai Motor Co. said its net income fell for a sixth quarter to $1.5 billion in the period.
Both the Kospi Large Cap and small-company indexes dropped 1.4 percent on Tuesday. The nation's exports tumbled 14.7 percent in August, the most since 2009 and an eighth straight monthly decline, the trade ministry said on Tuesday.
Innovation Push
"Korea is not performing," Gaud said. "This will definitely continue and it's not a great market to capture a rebound in the global cycle. Japan continues to be a lot more interesting."
Bigger companies are also under pressure as South Korean President Park Geun Hye seeks to curb the economy's reliance on conglomerates. She said in January 2014 that the government will establish a so-called "center for creative economy and innovation" to provide assistance to smaller companies. She said the goal is to help people with fresh ideas get capital, while taking legislative steps to rein in the influence of corporate empires.
Macquarie's Cornu said he is buying smaller companies as international money managers focus on conglomerates that comprise a large proportion of benchmark indexes.
Samsung Electronics shares make up 13.6 percent of the Kospi and Hyundai Motor has a 2.8 percent weighting. The companies comprise 24 percent of the MSCI Korea index. Macquarie's Asia New Stars fund, which holds cosmetics maker Korea Kolmar Co., returned 3.4 percent this year, beating a 5.6 percent decline in the MSCI Asia Pacific index.
"We are doing extremely well in Korea," Cornu said. "Here are still a lot of Korean companies which are very well run, very straightforward and very easy to understand. We like simple businesses that are easy to understand."
Before it's here, it's on the Bloomberg Terminal.
LEARN MORE