Goldman Sachs Thinks This Volatility Index Should Be Much Lower
The VIX is trading like the U.S. is in a recession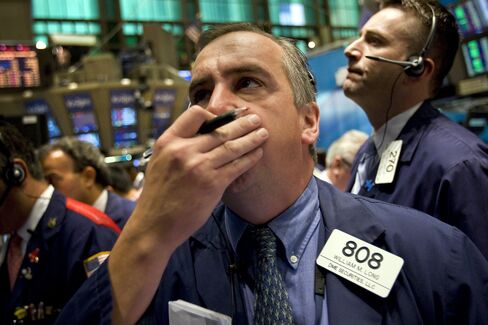 Oh, how times have changed.
For much of the past year the story has been the extremely low levels of volatility in the market, but that trend came to a screeching halt last week when the Chicago Board Options Exchange Volatility Index rose to levels not seen since the financial crisis.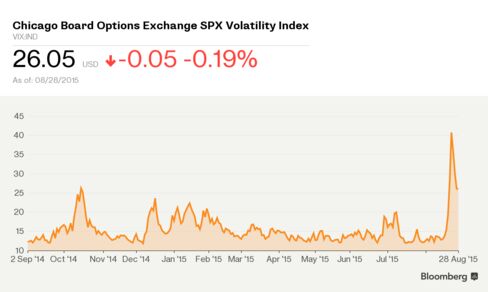 Things were so hectic on Monday that the index didn't even open for almost 30 minutes as S&P 500 options spreads widened out to 16 times bigger than normal. When it finally did switch on, it shot up as much as 90 percent to 53.29. The VIX did fall back to the mid-20s by the end of the week, but Goldman Sachs is arguing that those levels are still too high.
While extreme VIX levels periodically occur, our analysis shows that VIX levels in the high-twenties to low thirties for extended periods of time are rare outside of recessions.
Equity derivatives strategists at Goldman say we are not in a recession and that the revised U.S. GDP growth of 3.7 percent for the second quarter and the estimate for growth of 2.3 percent in the third quarter point toward the VIX pricing in too much anxiety for economic conditions. By Goldman's calculations, the VIX should be at least two points lower, if not more.
Goldman strategist Krag Gregory goes on to bring up a second question of whether the market was simply too complacent in the first place and needed to catch up. Given the turbulence in emerging markets, commodities, currencies, and certain bond markets, Gregory says some cross-asset benchmarking measures hint that the VIX was indeed too low to begin with.
Benchmarking relative to cross asset risk metrics does suggest that the VIX was low in mid-August. But our results also show that the VIX not only caught up but actually overshot cross asset moves by 12-14 points when it peaked above 40. ... In our view the large VIX overshoot points to a market driven more by positioning and liquidity concerns rather than fundamentals.
Below you can see some of the levels that the VIX should have been trading at, according to Goldman's calculations.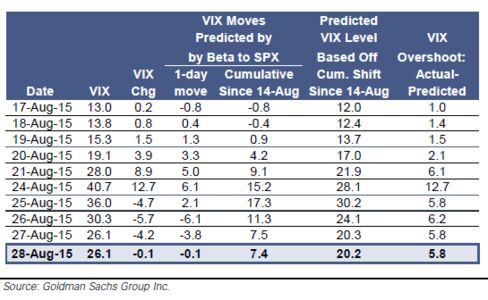 It's worth pausing here to note that the world of volatility trading has vastly changed in recent years. Not only are there a host of VIX-related products that investors can use to speculate on the volatility expectations, but a bunch of quantitative-focused investors have also arisen to play in the volatility of volatility market.
In fact, last week analysts at JPMorgan took a very different approach in explaining why the VIX is trading higher. In the JPMorgan note, a team led by Marko Kolanovic argued that rather than fundamentals, it was price-insensitive traders with "trend following strategies (CTAs), risk parity portfolios, and volatility managed strategies" that exacerbated the large moves in equities as they rushed to hedge.
Our estimate is that up to 20% of market volume was driven by hedging of various derivative exposures such as options, dynamic delta hedging programs, levered ETF stop loss orders, and other related products and strategies.
The S&P 500 plunged as much as 5.3 percent last Monday. Sudden moves like that spur computerized traders to buy and sell, exacerbating moves past what is justified by the economy and earnings, Kolanovic wrote in the note.
In this case, JPMorgan — unlike Goldman Sachs — expects high volatility to stick around for a while.
Before it's here, it's on the Bloomberg Terminal.
LEARN MORE