Freeport Looks Like Junk as $46 Billion of Miner Bonds Plummet
Cost cuts don't change `market situation': Moody's Analyst

Jefferies strategist says `sell/short' Freeport bonds
The commodities rout is casting doubt on the investment-grade status of billions of dollars of bonds issued by miners on the cusp of junk.
Case in point: Freeport-McMoran Inc. Yields on the $14.7 billion of bonds issued by the world's biggest publicly traded copper producer have surged to levels that are more than what investors typically demand to lend to high-yield companies. Teck Resources Ltd. and Barrick Gold Corp. are in a similar bind. They're among five metals miners with $46 billion of bonds that are yielding an average of 7.6 percent, more than the 5.73 percent for companies rated in the highest speculative-grade tier.
Credit investors are signaling skepticism that cost cuts and production changes will be enough to offset commodity prices that last week fell to the lowest since 1999. Freeport, which has posted $7.2 billion of losses the past three quarters, said last week it will reduce spending as prices for almost everything it produces tumble.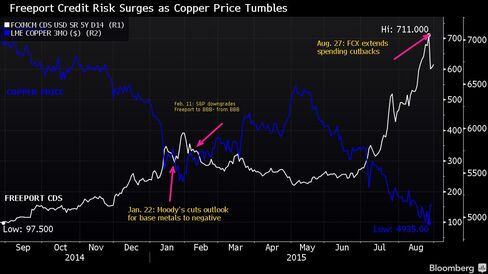 "It's a very good step forward, but it doesn't change the market situation," Carol Cowan, an analyst at Moody's Investors Service said Aug. 27 by phone. "The whole commodity metals market's prices have collapsed -- across the industry that is going to really compress earnings and we think it's going to be an ugly third quarter."
Weak economic growth in China has eroded demand for commodities and battered the outlook for miners, whose debt has performed the worst among high-grade issuers this year, according to data compiled by Bloomberg.
This has taken a toll on Freeport's bonds and also the debt issued by other investment-grade miners such as Teck Resources, Barrick Gold and Vale Overseas Ltd. All four borrowers have one-year default probabilitiesthat are typical of junk-rated borrowers, Bloomberg data show.
Excess Capacity
Miners "are facing duress," said Gary Herbert, a global fixed-income manager at Brandywine Global Investment Management LLC. "All of them built excess capacity on the presumption that Chinese growth was going to be between 7 and 11 percent. The stuffing of that concept has been knocked out."
Freeport's bonds are trading at an average yield of 7.6 percent, which is more than the average for junk bonds tracked by Bank of America Merrill Lynch Indexes. Its longest-dated notes, $2 billion of 5.45 percent bondsmaturing in 2043, have tumbled more than 17 cents to 73 cents on the dollar to yield 7.9 percent, up from around 6 percent in May.
Freeport announced cutbacks on Aug. 27 includingplans to trim capital expenditures next year to $4 billion from a previous estimate of $5.6 billion and reduce 10 percent of staff and contractors at U.S. mining operations. The company had earlier sold assets, reduced dividends and announced plans to raise $1 billion in equity and spin off a minority stake in its oil and gas business, among other measures.
Vivek Pal, a managing director and desk strategist at Jefferies Group, says cost and production cuts will have minimal effect on Freeport's finances and sees recent news as "another opportunity to sell/short" the company's bonds.
Bonds Rally
The miner's bonds rallied and its stock surged by as much as 32 percent the day it announced the cutbacks. After the market closed that day, billionaire activist investor Carl Icahn revealed that he had amassed about 8.5 percent of the company.
"Ichan will get his way but that may not be necessarily good news for the bondholders," Pal wrote in a message to clients today. "Take advantage of this unfounded euphoria in the market that was desperate for any good news."
Eric Kinneberg, a spokesman for Phoenix, Arizona-based Freeport, didn't respond to e-mail and phone messages seeking comment following the cutbacks.
Investors trace Freeport's woesto its near-simultaneous $9 billion debt-fueled acquisitions of McMoRan Exploration Co. and Plains Exploration & Production Co. in 2013. At that time, Freeport said the purchases of the oil companies would help it diversify and provide a hedge against downturns in copper and gold. All those commodities have plunged since then, leaving Freeport in a bind.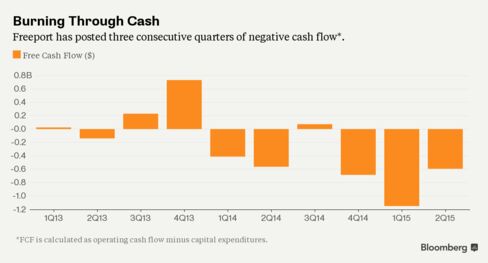 "We still believe FCX remains at risk of falling to high-yield particularly if commodity prices fall further from here," CreditSights analyst Wen Li wrote in an Aug. 27 report, after the company announced the cutbacks.
Deutsche Bank AG's Grant Sporre forecasts that copper prices won't see a lasting rebound until 2018. Copper prices declined for a fourth straight month in August, the longest streak since the global financial crisis.
"Purely on leverage statistics, they are already a high-yield company, involved in markets that are deteriorating," said Richard Familetti, who helps oversee about $6 billion as senior portfolio manager at Ryan Labs Inc. "They're sort of trapped."
Junk Ratings
Moody's grades Freeport Baa3, its lowest investment-grade ranking. S&P reduced Freeport's ratings to an equivalent BBB- in February, warning it may cut them further if commodity prices keep falling and leverage surpasses 4.5 times this year.
Gross leverage will pass that mark -- rising to 4.6 from 3.2 times by the end of 2015, assuming commodity prices are "unchanged from current levels," according to Li.
Based on leverage, market value, price volatility and cash flow ratios, Freeport has a Bloomberg Default Risk of HY1, a level comparable with debt rated Ba1 by Moody's and BB+ by S&P. The implied one-year risk for Vale SA, the Brazilian parent of Vale Overseas, and gold producer Barrick Gold is at the same level. Debt of Canadian miner Teck Resources is in a risk band one level lower, Bloomberg data show.
Rating downgrades "may be industry-wide because of fallen commodity prices," according to Richard Bourke, an analyst at Bloomberg Intelligence.
Before it's here, it's on the Bloomberg Terminal.
LEARN MORE