Currency Turmoil Turns Elixir in Funds' Best Month Since January
U.S. jobs data loom as potential turning point for dollar

Foreign exchange coming off most volatile August since 2007
For currency traders who took vacation during the most turbulent August since the financial crisis, take heart. The volatility seems far from over.
August brought a surfeit of trading opportunities for those who stuck around. China's shock devaluation on Aug. 11 halted the dollar's rally against developed-nation peers and emerging-market currencies plunged to records. At the start of the month, options implied less than a 3 percent chance the dollar would plumb the lows it reached against the euro Aug. 24, on one of the most tumultuous trading days of 2015.
Yet the major action in foreign exchange may still be ahead. The chances of a Federal Reserve interest-rate increase in September, all but priced out during the market turmoil, could roar back with a robust U.S. employment report on Sept. 4, said Paresh Upadhyaya, director of currency strategy in Boston at Pioneer Investments, which oversaw about $250 billion as of June 30.
"August in many respects was seismic," said Upadhyaya, who's keeping bets the dollar will strengthen against the yen and euro. "But if the Fed was to hike in September, September could turn out to be the pivotal month."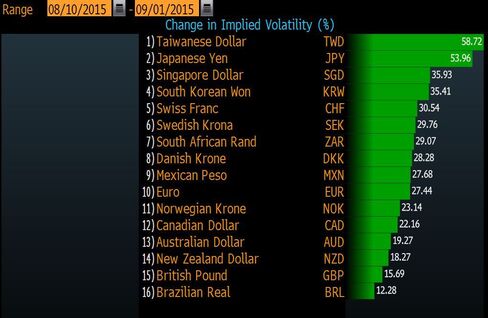 When they went away, traders were pricing in a quiet few weeks before a Fed move in September. Instead, August turned into a banner month for currencies as global equities losses generated market swings across asset classes.
The Parker Global Strategies LLC index tracking currency-fund returns rose 1 percent in August, the biggest gain since January.
JPMorgan Chase & Co.'s currency volatility index rose 12.5 percent in August, the biggest surge for the month since 2007.
The euro has gained 2.3 percent since Aug. 10, to $1.1271 per dollar as of 12:53 p.m. in New York. That's about 4 percent above the median third-quarter forecast of analysts surveyed by Bloomberg. The shared currency reached $1.1714 on Aug. 24, the highest since January. The yen is also about 4 percent stronger than the projection, at 119.80 per dollar, with a month left in the quarter.
Currency 'Freakout'
"We've seen a freakout," said Karl Schamotta, director of foreign-exchange research and strategy in Toronto at Cambridge Global Payments, which hedges currencies for companies. "Currency risk is very much back on the radar."
The burst of volatility upended summer routines, leading some staff to cut short vacations, Schamotta said.
He planned to keep an eye on markets during a lakeside stay this past weekend in the Muskoka region north of Toronto, and has been curtailing after-dinner tippling to monitor where China's central bank was fixing the yuan.
The focus on U.S. data will only intensify in the leadup to the Fed's Sept. 17 decision.
The dollar has advanced against most major currencies this year as investors anticipated higher U.S. interest rates. In a sign that traders see bigger swings in the weeks ahead, one-month implied volatility in the euro-dollar exchange rate, a measure of anticipated price movement, reached 12.5 percent Tuesday, close to the highest since early July.
Data Sway
"I would expect to see the data become the dominant driver" until mid-September, along with comments from central bankers, said Mazen Issa, senior foreign-exchange strategist at Toronto Dominion Bank in New York. "It's a very fluid risk, so I think we're going to see those risks sway over the course of the next several weeks."
Futures contracts show traders see a 34 percent chance of a Fed boost in September, up from 24 percent on Aug. 26, according to data compiled by Bloomberg. The figures are based on the assumption that the benchmark will average 0.375 percent after the first increase. The Fed has kept its target near zero since 2008.
The Sept. 4 jobs report will probably show the U.S. economy added more than 200,000 jobs for a fourth straight month, while the unemployment rate dropped to 5.2 percent, according to the median forecast of analysts surveyed by Bloomberg.
With signs of strength, "you'd have to think September has to be in play after everything," Upadhyaya said. "It could become quite painful for dollar bears or those weak dollar bulls looking to get back in."
Before it's here, it's on the Bloomberg Terminal.
LEARN MORE