South Africa Sees Poaching Intensify as 749 Rhinos Killed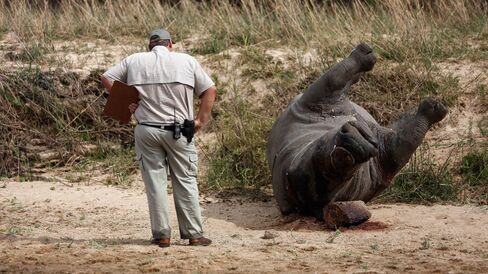 Majority of rhinos were killed in Kruger National Park

Government yet to decide on sale of rhino-horn stockpile
Rhino poaching in South Africa has intensified this year after a record number of animals were killed in 2014, according to Environmental Affairs Minister Edna Molewa.
In the period to Aug. 27, 749 rhinos were poached compared with 716 in the same time frame last year, Molewa told reporters on Sunday in the capital, Pretoria. Of that total, 544 were killed in the 2 million-hectare Kruger National Park, which borders Mozambique and Zimbabwe.
"The problem of people attempting to poach our rhinos is intensifying," Molewa said. "The number of arrests inside Kruger National Park was 138 for this year compared with 81 arrests for the same period last year."
The government has yet to decide whether to sell off its rhino-horn stockpile in a bid to slow the slaughter after 1,215 rhinos were killed illegally in South Africa last year, Molewa said. While a committee of inquiry investigates the feasibility of legalizing rhino-horn trade, the country has relocated at least 100 beasts to neighboring Botswana and Zambia.
Demand for rhino horns has climbed in Asian nations, including China and Vietnam, because of a belief they can cure various ailments including cancer. South Africa is working on conservation awareness programs with Cambodia, Vietnam, China and Mozambique, Molewa said.
South Africa is home to most of the world's remaining white rhinos, with a population of about 18,500 animals, according to Sam Ferreira, a large mammal ecologist at South African National Parks. The country's 1,916 black rhinos is the highest number in the world, followed by Namibia, Molewa said.
Before it's here, it's on the Bloomberg Terminal.
LEARN MORE