Modi Backtracks on India Land Reform Ahead of State Election
Retains option of reconvening parliament session to pass GST

Opposition Congress party relishes in Modi's "U-Turn" on land
Indian Prime Minister Narendra Modi stepped back from a move to make it easier for companies to acquire land after increased opposition from farmers ahead of a key election.
An executive order imposed in December to exempt certain investment projects from obtaining consent from land holders won't be renewed when it expires on Monday, Modi said. He blamed a misinformation campaign for the about-face, and pledged to help farmers.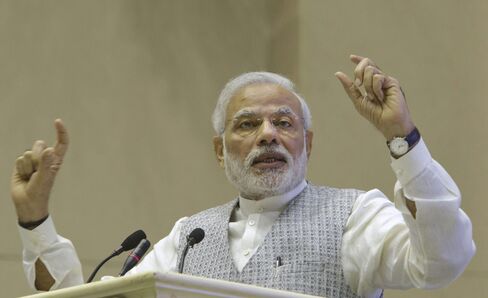 "I have decided that the ordinance be allowed to lapse," Modi said on Sunday in a radio address broadcast throughout India. "This means that the situation stands where it was at the time that my government came to power."
The change in strategy comes as Modi's party prepares to fight state elections that are crucial to controlling the upper house of parliament, where opponents have blocked the land bill and other key economic proposals. The failure to push through legislation has soured sentiment as Indian stocks plummeted along with other emerging markets last week.
The move gives Modi the option of recalling lawmakers to pass a stalled national goods-and-services tax. To renew the land ordinance, Modi would've had to prorogue the latest parliamentary session -- meaning that legislation related to the tax couldn't be passed until November at the earliest. That would jeopardize his plan to implement the GST by an April 2016 deadline.
GST Push
Modi has "abandoned the land bill to pursue GST," said Mohan Guruswamy, chairman of the Centre for Policy Alternatives in New Delhi and a former finance ministry official.
In 2013, the previous government changed a colonial-era law allowing the government to seize land at cheap rates, which had fueled clashes between farmers and officials as well as Maoist rebellions in some mineral-rich states. The new law required the consent of more than 70 percent of farmers for most land acquisitions, which stalled investment projects.
Modi's executive order in December exempted investments in defense, rural infrastructure, affordable housing, industrial corridors or government partnerships from the need to win consent and conduct a social impact assessment. It was extended twice, in April and May.
During that time, efforts to pass amendments to the 2013 land bill stalled in parliament, with the opposition Congress party accusing Modi of seeking to benefit industrialists more than farmers. Sonia Gandhi, the Congress party leader, on Sunday declared victory for Modi's "U-turn" on the land ordinance, according to the Press Trust of India.
Election Fight
A joint parliamentary panel is currently examining the land bill. Modi has said he's open to suggestions on how to improve the law so that farmers can benefit and India can improve its infrastructure.
With the ordinance no longer in effect, Modi said on Sunday he would implement rules to benefit farmers for 13 types of land transactions that were exempt under the 2013 law. These include acquiring land for national highways, metro rails, atomic energy plants, mines, petroleum and mineral pipelines.
"Brothers and sisters, you should neither be confused or frightened," Modi said. "I don't want to allow anyone to confuse or terrorize the farmer."
Several recent reports have suggested that land isn't the biggest obstacle to investing in India.
Federal ministries didn't make a single acquisition under the ordinance from January 1 to June 30, the Economic Times reported on July 30, citing a study by the Commonwealth Human Rights Initiative. Only 15 percent of stalled projects valued at more than 5 billion rupees are stuck because of land acquisition problems, Ambit Capital Pvt. Ltd. said in a June report.
In a few months, Modi's party will face the first in a series of state elections in Bihar, where more than 100 million people live on an average of less than $2 a day. On a campaign stop this month, Modi pledged to spend 1.25 trillion rupees ($19 billion) on highways, power plants and schools in India's third most-populous state.
"It's a setback for the government's image," said Sandeep Shastri, pro vice chancellor at Jain University in the southern city of Bengaluru and an author on Indian politics. "They are attempting to correct the perception of 'pro-corporate' and 'anti-farmer' before the Bihar election."
(A previous version corrected the name of the group that conducted a study on land in the 14th paragraph.)
Before it's here, it's on the Bloomberg Terminal.
LEARN MORE